"Customer Loyalty" was the second straight episode that wasn't just funny in comparison to the general lackluster product The Office has produced over the past couple of seasons, but rather a genuinely good half hour of television.
Dwight attempting to have fun with Darryl, Toby's awkward behavior around Nellie, the random acts of hilarity around Dunder Mifflin and the excitement of seeing Jim and Pam fight all came together for a very nice episode.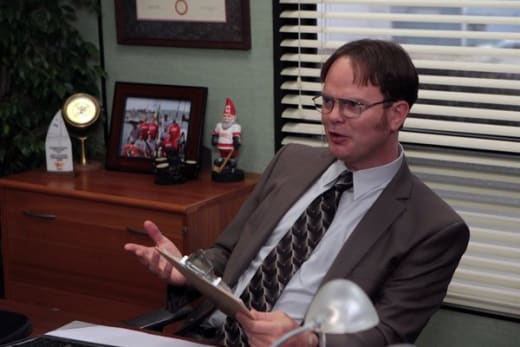 Since Andy left Rainn Wilson has really taken over as the lead of the show, and he's proven those of us right who said way back when that he should have been given the bigger role once Steve Carell departed. Week in and week out he brings it, and that was no different this time around.
Playing Fun's "Tonight" for Darryl in the truck, throwing basketballs at him and then chucking a milk shake at the fast food workers, Dwight was on fire yet again. Darryl's inability to enjoy it made for a great dynamic between the two throughout the episode.
Toby's actions towards Nellie, meanwhile, were just as hilarious. "Not everybody has what we have. Rubbing her hair while saying "You never stop surprising me." I didn't know whether to throw up or die from laughter. That is exactly the reaction I'm looking for from an awkward comedy.
Adding Oscar's disdain for watching Pam's video of Cece, Angela telling Erin not to cheat on Andy because from her experience he doesn't like it and Kevin asking if they can call Mr. X Pete because he is actually the one Erin's flirting with, and there were plenty of laughs to go around during the half hour.
My favorite moment of the night, though, had to be the fight between Jim and Pam. I'm not sure where most viewers on these two at this point, but I find it hard to believe that someone has watched every episode of The Office and hasn't grown to dislike these two as a couple.
Seeing the golden couple really get heated at each other was unsurprisingly fun to watch. What made it all that much better was when they ripped that fourth wall to pieces and showed us Brian the sound guy. I was in shock that he came in to comfort Pam, but I was also laughing hysterically that it happened.
It's the last season ever, so you can't hold anything back now, right? Maybe Brian becomes part of the show?  Has anyone heard rumors about something like that? The whole thing definitely got me more excited about seeing how The Office is actually going to end. This could get fun.
Check out our The Office quotes page, and then let us know if you liked "Customer Loyalty" in the comments.
Dan Forcella is a TV Fanatic Staff Writer. Follow him on Twitter.