The second set of 10 girls sang for their supper tonight on American Idol.
And just like last week, only 5 of them will survive the Sudden Death round and go on to croon another week. The biggest issue I can see with the Sudden Death setup is that by grouping the singers and cutting after each group of 10, the judges may have sent someone home last week who is better than those who will perform this week.
Will that turn out to be the case? Let's find out...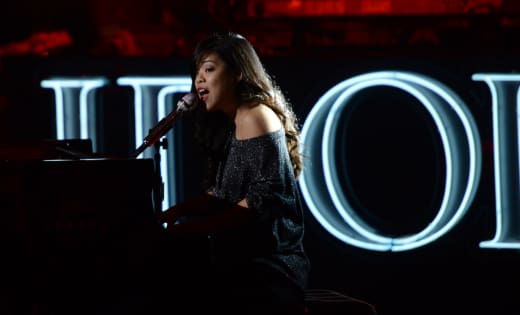 Melinda Ademi is a returning Idol contestant from season 10 and music major in New York City. She sings Jessie J's "Nobody's Perfect" and it's awkward at times and pitchy in spots and not...uh...perfect. It's like she's trying too hard to be hard. It's not a great start to the night. Keith called it "a great way to start the show" and blamed the rough moments on her nerves. Nicki said, rightfully so, that Angela did it better last week and that she needs to branch out in the artists she chooses to emulate. Randy said there were no big moments in the song. Mariah recognized the waver in Melinda's voice and said she made it where she needed to be by the end. My vote: Melinda's heading back to music school.
South Carolina singer, Candice Glover, was sent home last year during Vegas week. She sings "Natural Woman" by Aretha Franklin and absolutely slays it. Perfect song choice, flawless performance. Vocal runs in just the right places. Keith could barely get a word out because of the audience's cheers. Nicki, like the rest of us, is confused that Candice didn't make it through last year, but Randy says this was really good but not her best performance. Mariah called it very nice and complimented the arrangement. My vote: Candice is one to watch. She'll make it to the Top 5 of the competition. Maybe the Top 3.
Another youngster in the competition is 15 year old Juliana Chahayed who credits her father for her love of music. She plays the guitar and sings a rendition of Demi Lovato's "Skyscraper." It's haunting and really shows her as an artist. Keith comments that she struggled with pitch but said that the song was beautiful. Nicki says Juliana's voice is signature and unlike anyone else's in the competition, but hopes that she doesn't get lost in the midst of the other female contestants. Randy called her performance honest and Mariah gave her the note that she was "angelic." My vote: Juliana should be safe. I would keep her around.
Jett Hermano is currently a legal assistant who gave up a full academic scholarship to the University of Washington to pursue music. She settles in behind the piano for Rihanna's "Only Girl." Slowing the song down and changing up the arrangement makes it a completely different song and really showcases Jett's voice. Keith liked the arrangement and thought that it showed the sexiness of the song. Nicki also liked the arrangement but felt like there was never a moment in the song. Randy agreed with Nicki. Mariah said she's always felt Jett was a unique addition to the contest and that it didn't matter that there wasn't a moment. She just likes Jett. My vote: Jett's leaving on a jet plane.
Cristabel Clack almost allowed fear to keep her in San Antonio and out of Vegas. Singing Alicia Keys' "No One," Cristabel enjoys herself on the stage. She's crazy talented, but it doesn't show as well as it could in this song. There are runs in strange places, but I do love the rasp in her voice. Keith called it a really good song and says she has crazy potential. Nicki skatted into the microphone before commenting that the rasp that they all love got a little overdone tonight. Randy disagreed with Nicki and actually gave her a standing ovation and praised her for cutting loose on the song. Mariah loves Cristabel when she just does what she does. It's the most noncommittal and least helpful critique, which is par for the course for her tonight. My vote: Cristabel will get another week by the skin of her teeth.
A seldom-seen face in the competition so far, Aubrey Cleland is a farm girl from Oregon. This is her third attempt to make it on Idol. She sings Beyonce's "Beautiful Nightmare." It's slow. And off-pitch. And just okay. Aubrey's beautiful though. Keith loves Aubrey's "balance of poise and fire." Nicki is "obsessed" with Aubrey and thought everything was perfect. Randy is also obsessed with Aubrey but didn't think the song was right. Which Nicki disagreed with. Mariah called her limitless. My vote: She's safe. But I think I didn't hear the same thing the judges heard.
Songwriting student at Beaumont University, Rachel Hale brings the country rock vibe with "Nothing But The Water." I'm unfamiliar with the original but I definitely liked Rachel's version. It's actually one of the first times I've liked Rachel. Keith didn't know the song either but loved seeing that side of her. He thought the song "got on top of" Rachel in parts, but he loves her spirit. Nicki complimented her on the crazy confidence she found between rounds. Randy also complimented her on her confidence and said we all need to pray more. Mariah liked the song but liked other songs better and hopes people feel Rachel's energy. My vote: Rachel might go home. But I'm okay with that.
Breanna Steer is from Louisiana and her home recently suffered devastation from a hurricane. She tackles Jazmine Sullivan's "I Bust The Windows Out Your Car." But it lacks pizzazz. A lot of pizzazz. I vividly remember Amber Riley singing that song on Glee season 1, so that definitely colors my judgment. Keith was nice in his commentary but didn't say much of substance. Nicki fawned all over Breanna and her performance and says she could be a current artist right now. Randy likes her because she hails from his home state and would also sign her now. Mariah is glad the contestants get to choose their own song and calls her marketable. My vote: We did not hear the same performance again. They'll probably keep her but I would send her home.
Country girl Janelle Arthur looks the part tonight in jeans and boots. She chose Lady Antebellum's "Just A Kiss." She's had better performances. I think she saw Kree's performance last week and let it get into her head. Keith thought the arrangement and song choice weren't the best. Nicki called her disconnected and thought she overdid it. Randy said she's his favorite country singer in the competition but agreed with Keith that this wasn't a good song choice. Mariah thought she would've done better on a simpler song. My vote: Janelle's going home.
Ending the performance portion of the night is Zoanette Johnson. She and her family fled Liberia when she was 2. In what might be one of the most odd performances in Idol history, she sings "Circle of Life." From The Lion King. I'm as shocked as you are. All the judges but Mariah give her a standing ovation. I think there might be a mind control device hidden inside her hair. Keith says he never knows what she's going to do and sometimes wonders if she does. Nicki said she "just served it" and tears up, calling her unforgettable. Randy says her spirit is really the spirit of a lion and is infectious and it doesn't matter if the notes are right. Mariah says her spirt is too big to be contained. My vote: The judges have all lost their minds. Zoanette will stay another week, get picked up by Vote For The Worst, and be here for far, far too long.
And now it's time for Sudden Death. Each girl will stand before the judges to learn her fate, none of which will be decided by Jimmy.
Zoanette Johnson, last to sing, is first to see the judges. They're keeping her. Melinda Ademi, however, will be going home.
Juliana Chahayed gets the sad news that this is the end of her Idol journey. Aubrey Cleland joins Zoanette on the stools.
Cristabel Clack is returning to San Antonio. Candice Glover is headed to the Top 20.
Jett Hermano heads back home. Breanna Steer,  after tons of misdirection from Nicki, learns she's sticking around.
The final two contestants of the night, Janelle Arther and Rachel Hale, head to the judges. They pick Janelle and send Rachel home.
And with that, the Top 10 girls have been chosen. Tomorrow night the judges will choose the last 5 members of the American Idol season 12 Top 20.
Are you happy with the Top 10 girls? Shocked? Who did they keep that you would've sent home? And who did they send home that you think should still be here?
Miranda Wicker is a Staff Writer for TV Fanatic. Follow her on Twitter.