Carrie Diaries Creator Teases Love Quadrangle, Walt's Decision and More
Jim Halterman at .
Carrie Bradshaw ventured into Manhattan high society with an older guy on last night's The Carrie Diaries, while Mouse and Maggie fought Donna and the mean girls for control of their beloved hangout.
Elsewhere, Carrie's dad took a step toward dating and who offered up sex advice for Mouse... but the sexually confused Walt!
As you can tell, much went down on "Dangerous Territory" - and we grabbed time with series creator Amy B. Harris at an invite-only screening last week at The CW offices to talk over these happenings, as well as what's to come on the new network drama...
----------------------------------------
Love Quadrangle Coming: George and Carrie hit it off this episode and Carrie even won over his snooty mom. Will we see more George?
"He's definitely someone new in Carrie's life who's going to be around for a nice little arc," Harris said, adding that things won't be simple because Carrie and Sebastian still are looking each other's way... even if they're dating other people: "There's a quadrangle coming... with Donna and Sebastian now being involved and Carrie having the possibility of George."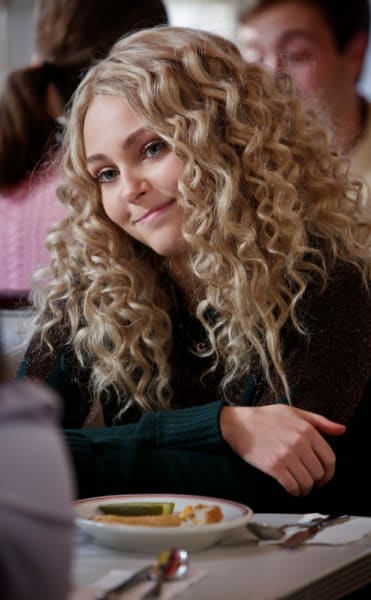 Will Walt Ever Come Out? Harris wasn't originally going to have Walt's coming out take very long, but she changed her mind after realizing that not many teens were coming out in high school in 1984: "I wanted to tell this story in a longer and more drawn out way because it's the truth, which, even now, it can be really hard to come out and I wanted that experience to be real for Walt, which I think is painful and scary."
Harris also said that especially after he had a same-sex kiss last week, Walt "will be making some conscious choices to hide behind Maggie and I think he really wants it to be true. I think in his mind he's thinking 'I'm having sex with her so that must mean I'm not gay!'"
FYI: Bennett, the guy who kissed Walt, will be back in future episodes so expect things to get further complicated for Walt.
Carrie vs. Dad While her dad may be easing into the dating pool, except him to clash with Carrie's newfound independence as well as her own ideas of her dearly departed mother.
"The romanticized version of what she saw her parent's relationship," Harris teased, "is going to play out in big ways this season."
And with Carrie spending more time in Manhattan, the creator also said that the older and wiser Larissa "is opening up ideas and doors for Carrie that she had never thought of before and I really love that and I think that's going to become a direct conflict for [Carrie] and her father as the season goes on."
Donna Isn't All Bad "I love her," said Harris of Carrie's nemesis, who is currently dating Sebastian. But Donna may not be pure evil after all. "I think you will very much find her redeemable... out of everyone on the show, I think she's the only one who doesn't lie. She's always honest even if it's mean, which it often is... I think you're going to find her filled with heart in some upcoming episodes."
Positive Feedback Harris is hearing from viewers and that feedback is helping her get a sense of how people are taking to the new series: "This is the first show I've been on since Sex and The City where I feel like I'm getting calls and emails and Facebook from people I haven't heard from in years. 'I'm watching it with my daughter' or 'my daughter's obsessed with it'…
While the ratings for the series are not yet off the charts, Harris remains optimistic: "Obviously you always want to come out of the gate gangbuster, and I can't obviously speak to The CW's point of view except what they've said to us, which is the numbers are growing [and] the younger female audience is growing exponentially."
Jim Halterman is the West Coast Editor of TV Fanatic and the owner of JimHalterman.com. Follow him on Twitter.