Even after all of these seasons, you still can't help but love Grey's Anatomy. Especially when it come sout with an episode such as "The Face of Change," an installment that has all your favorite parts wrapped up in just 60 minutes. Let's talk about it.
Sneaking Around. Normally when you think of the docs sneaking around, it's with each other. Not this time. All of the leads banded together to take on a trauma patient without the ER. Even with the new cast, this felt like old times. The group sticking together, covering for each other and doing its best to perform the medicine they were trained to do.
It didn't hurt that Cristina was yelling out her dwarf names: Happy... Mouse...Ponytail...Dopey...
This was a risky move and not totally realistic anywhere other than Seattle Grace Mercy West. The writers did an excellent job in bringing in the patient by way of April and her new potential paramedic boyfriend. Way to tie things in in a sensible way.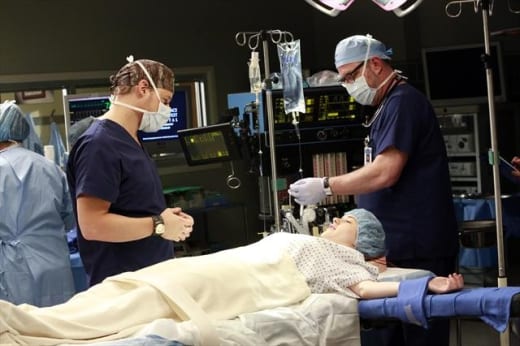 Competition Time. In an attempt to sell the hospital to Pegasus, Jackson and Alex were put in the running to be the brand ambassador. This led to some hilarious one-liners that are worth checking out on the Grey's Anatomy quotes page. 
The not official girlfriends were into the competition as well. Stephanie and Jo went to bat for their guys regarding who should be the mug of the hospital. Again: hilarious. 
But, of course, it was Derek's gorgeous face that made its way onto the elevator doors. Even though it was a little creepy looking, you can't go wrong with McDreamy. 
It is not a horse. It's a pegasus. The company looking to buy SGMW owns another hospital that Callie and Webber went to check out. These two have such great chemistry together. First playing husband and wife, then again as reps from Pegasus. I knew it would be Callie that would break about the hospital and come up with the idea to buy it. The thing I didn't expect? That Richard has an early retirement package waiting for him. Personally, I don't want to see a Grey's Anatomy episode without James Pickens Jr. in it. 
Jalex? Looks like the worst kept secret will be coming true sooner rather than later. Jo and Alex are definitely on the path towards a couple - and it is a pretty great path. Everyone sees it, Meredith told Alex to go for it and by the end of the hour, it looked like Alex saw it for himself. Seriously, these two need to happen now. 
Side Notes
Alex did the voiceovers in this episode. Pretty cool way to change things up.
How cute are April and Matthew, the paramedic cutie?
How much do you hate Cahill? 
Check out the EXCLUSIVE TV Fanatic interview with Constance Zimmer on her character. 
Overall, another great episode from Shondaland. What did you think, TV Fanatics? Were you a fan of "The Face of Change?" What do you think will happen next? Will the plane crash victims buy the hospital? Will Richard retire?
Sound off below and don't forget to check out the Grey's Anatomy Round Table later in the week! Here's ABC's first promo for "Hard Bargain" ...