We all saw this coming, didn't we?
On "Where I Lead Me," Zoe and Wade broke up. After a dramatic out-of-character (OOC) twist on last week's Hart of Dixie, all of those decisions came to a head and no amount of begging from Wade could save this relationship.
On a lighter note, though, we were given more Wanda and Tom on their wedding day in Bluebell. These two saved the hour for me.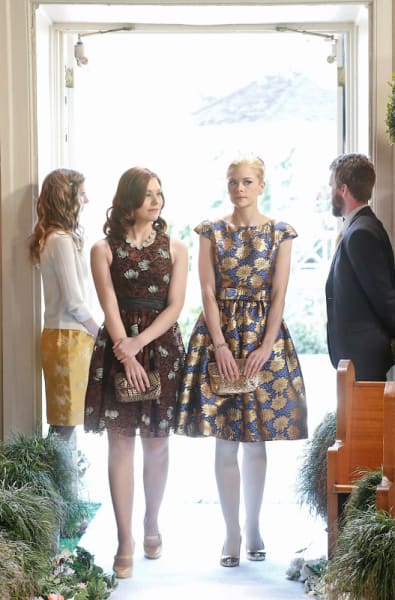 I might as well get the negative out of the way. Here's the gist of what happened: the writers needed a reason to end the Wade and Zoe relationship. Their conclusion? Making Wade OOC by having him sleep with a woman who wasn't Zoe Hart.
This is where my problems begins. In my review last week, I blew up and scorned the writers for doing this. Now that we've reached this far in Hart of Dixie Season 2, it seems like this was the writers intentions all along. Every week has brought a new problem for the couple; the pattern has been obvious and irritating, as they argue over something or hurt each other's feelings and then quickly make up for 10 minutes before another issue arises.
If this was the plan, HoD team, then why did you waste most of this season catering to this couple?!? I will admit that I'm the kind of viewer who watches this happen and says, "it's all apart of their character journey" and continues to enjoy the story. But it's hard for me to wrap my head around the OOC and "dark place" Wade was put in just to break him and Zoe up.
I can't say I'm looking forward to seeing how the bitterness is swept under the rug. It's not like Zoe can forgive him anytime soon and be back with him. If she did, then she'd be OOC.
On to the positive! Debra Jo Rupp was wonderful in this episode! I want her back for more because, honestly, who wouldn't want more of that lovely lady? She also said, "YOLO!" Ha! So come back Kitty!
Speaking of Wanda, her and Tom's wedding was absolutely adorable. What I would have given to have an invite to that event! I would have dressed up as a Droid or something. Nerd heaven! At least love is working out for one couple on Hart of Dixie.
I truly hope we continue to have more Tom and Wanda! Ross Philips and Mallory Moye are underused in the show.
Finally, after OOC Lemon last week, she came to her senses and forgave Annabeth. I spoke to Kaitlyn Black recently and she made a good point: I need to look at it from Lemon's perspective. She said that Annabeth was the most constant thing in Lemon's life and she had been hurt by AB. That's very true and I'm more forgiving of OOC Lemon than I am of OOC Wade now.
It's nice to see that the bond of two friends is strong enough to make it through this. I definitely ship Annabeth and Lemon as best friends forever!
Overall, this episode brought back the funny and picked the show off the floor after last week's disaster. It's time for us Dixie fans to move on and accept the journey the writers are taking us.