I hope you used your week off  to rest up, folks - because "Hookman" was all about action, action, gun control debates, action, prosthetic arms, creepy engraved bullets, action, total bromance, and, oh yeah, action.
I'm getting exhausted just re-reading my notes!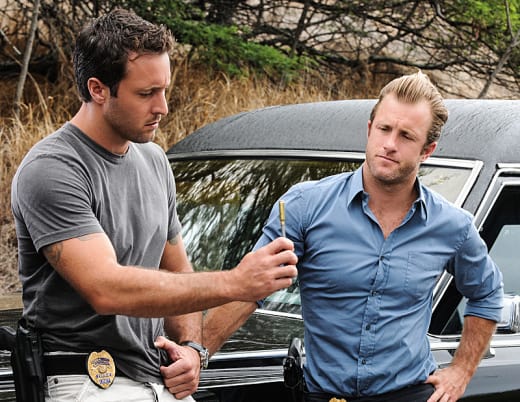 Eagle-eyed viewers may have noticed the groovy, retro font used in some of this week's opening credits - a subtle nod to the fact that "Hookman" is a re-make of an episode from the original Hawaii Five-0.
This re-boot did a clever job of keeping many elements of the original episode - like the names of the killer and his victims, the nature of Curt Stoner's injury and the taunting phone call that Stoner makes to McGarret after he busts into the Stoner's apartment - while updating many others (the original's hooks were updated into state-of-the-art robotic hands, and, as the original was shot in 1973, I can't imagine that it contained 1/10 of the charming bromancitude seen in this episode).
The biggest update, however, would have to be the nature of the killer's vengeance mission. In the original, Stoner  simply wants to do away with everyone who foiled his bank robbery, mangled his hands and sent him to jail. But in this version, the Hookman's pursuit of Steve McGarrett is for the "sins" of his father - and Steve's emotional reaction to fighting for the lives of his father's friends (and for his father's memory) added a real depth and feeling to the proceedings.
Of course, not so much depth that it slowed down the quips. Steve and Danny owned the Hawaii Five-0 quotes this week, managing to get in some great lines while also re-affirming, once again, how deeply they care about each other (in a manly way, of course).
And no discussion of this episode would be complete without bringing up this week's two guest stars; that'd be Charlie Murphy (of "Charlie Murphy's True Hollywood Stories" fame) as the sassy drug dealer that the Hookman sets up (yes, I know his name is Curt, but it's more fun to call him Hookman, okay?) and Max Weinberg (of E Street Band fame, y'all) as Norm, the gun shop owner. Which reminds me: do you think Danny's snappy exchange with Norm in the gun shop was a commentary on the recent gun control debate? Or am I reading in too much here?
Hawaii Five-0 has been experimenting a bit with its in this half of Season 3 (see "Kapu (Forbidden)'s choose-your-own-ending contest), and I love it. I thought this experiment was not only great fun, but also a clever investigation of what it means to be a re-boot of a beloved TV show from the past.
And, yes, you got me: I'm a sucker for anything that involves Charlie Murphy. "He took us back inside and made us pancakes!"
What did you think of Steve's reaction at the end? Have you seen the original "Hookman" episode? Are you going to watch it today, at work, while telling your boss that you're "working on some spreadsheets?"