The Big Bang Theory Review: Mama's Boy Grows Up

Carla Day at .
Oh, Sheldon! How much self-awareness can you handle?
On "The Cooper/Kripke Inversion," this Big Bang Theory favorite not only had to deal with superior research and work from Kripke, but with questions about his intimacy with Amy. What a rough few days for the guy!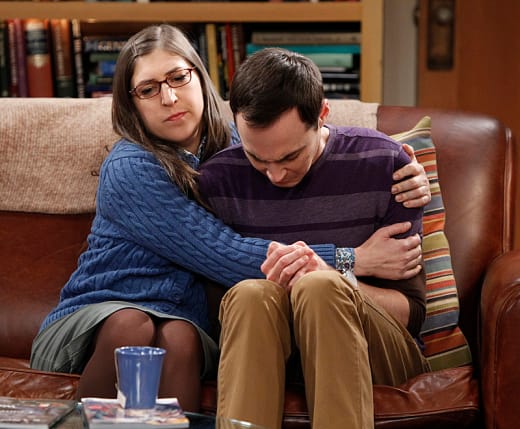 Usually Sheldon is fairly oblivious to social norms and doesn't want to be touched, but he has begun to evolve in both regards. He has been far from a "normal" boyfriend to Amy, but just as Penny's influence helped her, she has influenced Sheldon. Of course, if Sheldon became fully normalized, he wouldn't be our Sheldon any more.
His indestructible ego was crushed when his nemesis, Kripke, had better research than he did. And what started as dismay that he would even have to work with Kripke turned into despair. The upset Sheldon hid with a blanket over his head listening to Star Wars, while the distraught Sheldon was in agony.
The first was funny, the second was rather sad. That's where Amy came in handy. She could hug him, even if it was like a being strangled like a boa constrictor. Amy is now comfort to him.
When Kripke blamed Sheldon's poor work on too much sex, Sheldon went along with it and even played into it. That was a surprising, but it invoked a hilarious response.
Kripke: My work would suffer too if I was getting laid all the time.
Sheldon: Yes. That is the reason. My work is suffering because of all the laid I am getting.
Kripke: You lucky bastard.
Sheldon: What can I say, you know? She enjoys my genitals. I am giving them to her on a nightly basis. | permalink
In that moment, Sheldon became a man to be admired. He not only had a girlfriend, but he was getting lucky all the time! It didn't matter if Kripke's research was better or not, because Sheldon obtained something even more precious. Did Sheldon realize the magnitude of his lie? I doubt it, but he played it for all it was worth.
That led to a serious moment on The Big Bang Theory and there aren't many of those. Penny asked Sheldon the big question that everyone has wanted to know, "You ever going to sleep with Amy?" The look of shock on Leonard's face was priceless. 
Sheldon's honest self-reflection was almost tear-inducing.
Sheldon: Penny ... all my life I have been uncomfortable with the sort of physical contact that comes easily to others -- handshaking, hugging, prostate exams. But I'm working on it, you know? Just recently, I had to put VapoRub on Amy's chest. A year ago, that would have been unthinkable. | permalink
And it was followed up with the answer inquiring minds have wondering.
Penny: Okay. Hang on. Are you saying some day that you and Amy might actually get physical?
Sheldon: It's a possibility. | permalink
Leonard's expression was outdone by Penny's flabbergasted reaction to Sheldon's answers. I watched Penny's reaction over and over again. Leonard's poor arm! Should Penny tell Amy about this conversation? Or would that be betraying a trust? I'm not sure, but Sheldon is changing in a positive direction. More importantly, it's slow enough that there are plenty of opportunities for laughs.
While Sheldon was looking inward, Raj and Howard were being childish with action figures. Their segments were funny enough and a nice offset to what was going on with Sheldon. The 3D printer worked much better than I expected. The Howard and Bernadette dolls were awesome. But they came at a huge cost and not only financially.
Bernadette: No, here's how love works. You're gonna return the machine or you can print out a working set of lady parts and sleep with those.
Howard: [pondering]
Bernadette: Oh, my God! Are you actually thinking about it? | permalink
Bernadette set Howard straight on their money situation. No more expensive toys. It's a good thing she didn't find out about the initial $1000 action figures. Since Raj has money, at least they get to keep the machine.
Did you find Sheldon's self-reflection refreshing? Or, was it too much too fast? It was more serious than funny, was that something you want to see more of on the show? Would you spend $5000 on a 3D printer?
For more funny lines from the episode, check out The Big Bang Theory quotes section.
Carla Day is a staff writer for TV Fanatic. Follow her on Twitter and on Google+.