The Big Bang Theory Review: Romance Ninja

Carla Day at .
It's Valentine's Day ... and romance is in the air! 
I'm not sure who had the worst Valentine's Day, but Raj definitely had the best. He ... went ... out ... with ... someone! His day went from a singles party to heading out for coffee on a date. Could the dry spell finally be over for the chronically single friend?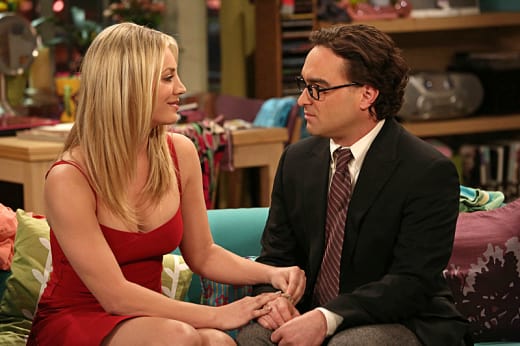 On "The Tangible Affection of Proof," the other friends had a moderately successful Valentine's. However, despite the bumps, they ended up with their loved ones and happy. That's quite an accomplishment. 
When Penny was distracted by her ex-boyfriend, I thought, "Oh no, here we go again." But that fear was unnecessary. Yes, Penny has a fear of commitment, but she at least acknowledges it now and Leonard also gets it. He gave her the best present: no more marriage proposals. They love each other, but it's in her hands now. We don't have to see any more awkward Leonard proposals, yet I expect that at some point we will see a glorious proposal from Penny. I can't wait. 
Penny: Leonard Hofstadter...
Leonard: Yes?
Penny: Will you be my valentine?
Leonard: Sorry. Maybe, next year. ... I'm just kidding. Romance ninja. Let's have sex! Wah! | permalink
The married couple of the group was having problems of its own. Howard's disregard for Bernadette's request for help around the house; marital bliss at its best. The Xbox: The biggest source of conflict in a modern marriage. Their interactions were the funniest of the evening.
Howard: She hid my Xbox like I'm a child. And, my mom got me that for my birthday so if you don't give it back, I'm telling. | permalink

Bernadette: If you like pushing buttons so much, try pushing them on the washing machine. | permalink
As usual, they realized their love and relationship was worth more than a little disagreement over chores. I was glad that Howard didn't use his failed gift as an excuse. Yes, he spent a night on it, but the Xbox problem was greater than just at one night. Their "I love you" exchange at dinner was adorable.
On his own, we saw Sheldon continue the growth we've seen from him during The Big Bang Theory season 6. He asked Alex to find the perfect gift for Amy and when two of those didn't meet his standard and he kept the third for himself, he came up with a gift that proved his commitment to Amy. He added her as his emergency contact on his employment records. AWW. And, Amy gave Sheldon the perfect gift of a night at home with pizza and watching a Star Wars Trek things. The perfect relationship. 
Though, Amy certainly didn't realize what a time commitment Sheldon's present would entail.
Valentine's Day on The Big Bang Theory was complete with plenty of love and laughs, despite some relationship setbacks. Just like the day should be!
Check out all the funny lines in the "The Tangible Affection of Proof" quotes section.
Are you looking forward to a future proposal from Penny? Excited to see Raj with a potential girlfriend? Will Amy regret her present?
Carla Day is a staff writer for TV Fanatic. Follow her on Twitter and on Google+.