The Lying Game Review: You and Me, We're Everything
Leigh Raines at .
Emma Becker is in trouble - and, for once, it has nothing to do with finding her birth mom and pretending to be her twin sister. In "Regrets Only," we find out that Emma finally cashed in her v-card to Thayer. 
The whole problem is she may not be 100% invested in Thayer.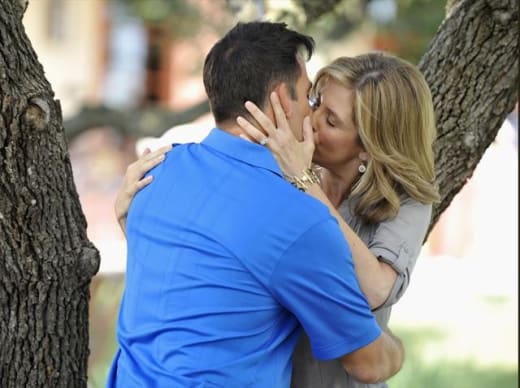 It seems like nobody is invested in their designated partner these days on The Lying Game. Well, nobody except for Theresa and Dan, the almost newlyweds. But after that last scene with Theresa in the graveyard, it doesn't look like anyone is headed to the altar tomorrow. Who abducted or attacked Theresa? That's a whole other question. 
Back to all that couple swapping: Alec and Kristen are so on. Now that I no longer really hate Alec, I could be down with this. Don't get me wrong, he's fairly shady but I think Rebecca is by far the shadier half of that couple at this point. She was stammering up a storm during her conversation with Sutton. Rebecca in and of herself is a "Lying Game." I don't even know what I believe out of her mouth at this point. 
If the audience is unsure of Rebecca's lies, imagine how Sutton feels! Then again, Sutton is a pretty solid liar herself. When she was denying knowing Rebecca was their birth mom, it was almost laughable. Emma was like oh, come on. However, Sutton knew the perfect way to distract Emma. Bring up her love life!
Thayer is great and he's been great to Emma, but you can't help who you have feelings for. I wasn't even necessarily on Team Ethan, but for some reason his speech to Emma in her bedroom was just perfect. It would also be unfair for her to stay with Thayer if she was second guessing her feelings. It was an immature move of Thayer to rub stuff in Ethan's face. However it was also immature of Ethan just to throw a punch. 
You and me, we're everything. | permalink
Now what, who will Emma choose? Who should she choose? Are Ted and Rebecca game on now that Kristen asked for a divorce? Were you surprised to find out that Ted knows Sutton is his daughter? I felt like Alec was quick to give Emma some of her answers this week which is good. There's only so long we can keep asking the same questions.