The Big Bang Theory Review: Hello, Female Children

Carla Day at .
Hilarous, non-stop laugh producing sitcom episodes are enjoyable to review. During the process of writing about the episode, it's an opportunity to laugh all over again. A horrible episode provides plenty of fodder to discuss.
"The Contractual Obligation Implementation" ended up being a bit of both. The idea of the sometimes socially challenged guys convincing young girls that science is cool and a career path to pursue started off with such great potential. And instead of flourishing in the funny, it diminished into an awkward and painful to watch display.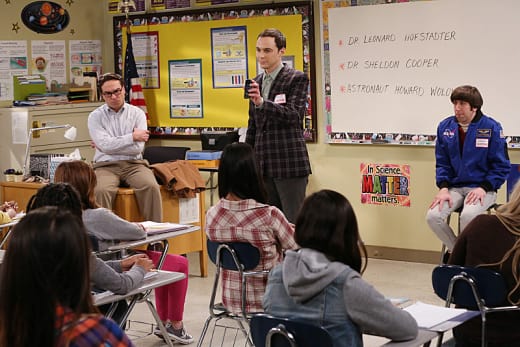 Sheldon's Madame Curie bit came close to being funny, but just missed. Same with Leonard's rap. Howard's astronaut section was the best of the bunch and that isn't saying much. What little good there was ended up wiped out by Leonard's woe is me.
 
The Big Bang Theory had an opportunity to be funny while promoting science to young students, especially girls. Instead, it further perpetuated the negative stereotypes of scientists. Disappointing.
 
Diatribe over. With the exception of the school presentation, there were some funny moments. Perhaps part of my let down was due to the well-written opening moments about Star Trek, Howard's difficulty with women and Sheldon's belief that people should do things on their own.
 
Sheldon: 
I believe in a gender blind society like in Star Trek. Where women and men of all races and creeds worked side-by-side as equals.
Leonard: 
You mean where they were advanced enough to develop an interstellar warp drive, but a black lady still answered the space phone?
 | 
permalink
Amy: 
The world of science needs more women, but from an young age we girls are encouraged to care more about the way we look than the power of our minds.
 | 
permalink


Is Cinderella the favorite princess? She definitely was with these gals. Howard wins the award for the best prince. His shirt removal, horse riding and bucking were fitting and Bernadette loved it. They really are a great couple. 
Amy picked the right costume. However, if she was under a sleeping spell, she'd probably never be awakened. Sheldon's not a kissing price. Poor Amy!
 
Amy:
Sheldon ... all Snow White needs is one small kiss to wake up.
Sheldon:
Heard you the first time.
| 
permalink


While the guys were bombing with the teen girls, Raj was off having a "real" date. At least, a Raj-appropriate date in a library communicating via text. Porn? Awkward! Oh, prom. Even more awkward response! At the end of the date, I thought for a moment that Raj would forget his impediment and speak at least a single word. Just as she couldn't quite kiss him, he couldn't respond.  
They could be the best therapy for each other. Their moments will come. She will open up and he will eventually speak to her without alcohol. All in time.
Was I too harsh on the school presentation? Did you find it funny? Don't hold back! Share your favorite and least favorite moments in the comments.
Carla Day is a staff writer for TV Fanatic. Follow her on Twitter and on Google+.