We are two weeks away from the Arrow Season 1 finale.
And it looks like it will be a painful one for Oliver.
In newly-released photos from The CW, we have our very first look at "Sacrifice," the May 15 installment that finds Oliver and Diggle in a race to stop The Dark Archer. But will they successfully prevent him from unleashing vengeance on The Glades?
Not before he gets Oliver in a rather compromising position, based on the following images: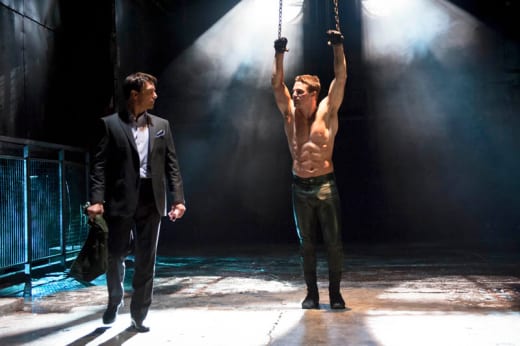 Elsewhere on the finale:
Detective Lance will picks Felicity up for questioning.
Oliver will make a confession about Laurel to Tommy.
Thea will place herself in danger while trying to find Roy.
On the island, we'll witness Oliver, Slade and Shado in a battle against Fyers, with his missiles locked on a full Ferris Air jetliner.
Jim Halterman is the West Coast Editor of TV Fanatic and the owner of JimHalterman.com. Follow him on Twitter.