In Awkward this week, Matty iterated the dreaded "sure babe" to Jenna.
Following an Awkward Season 3 premiere that left me feeling a little unsure about the overall feel of the show - Ricky's death, Jenna's pregnancy scare and Sadie's social upheaval did not leave much room for humor and heart - "A Little Less Conversation" offered some much needed assurance in those areas.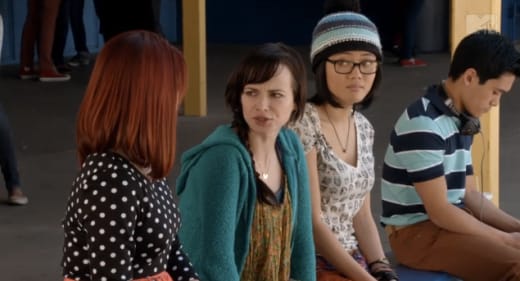 Every time we think we have a good understanding of Jenna, and everyone else, something new comes along. Jenna's BFGFBFF double date with Tamara was not only trying to delay the talk, but also brought up differences with Matty and Jake.
Jenna never had any difficulty opening up to Jake or vice versa; Matty has never strongly opened up his feelings to Jenna verbally and this lack of communication between them is only exacerbated by the pregnancy scare and Jenna's lingering feelings of their hidden hookups back in Awkward Season 1.
Matty and Jenna didn't figure out how to be a couple without being physical, so their talk that closes the episode is enjoyable because it begins to push them on a path towards opening up emotionally. Matty has always had a show not tell emotionality to him, but he hasn't really spoken to Jenna to the degree Jake has. Matty has done a lot of maturing and growing up with Jenna – he's a vastly different person than where me met him in the pilot – and I'm excited to see where they head from here.
All of that said, Matty is still a compassionate character and he picked up on Sadie's situation immediately.
Yes, Sadie is still Sadie, but the amount of sympathy I'm sending to my television when I see her hurting is mind-boggling. Matty lends her an ear and a shoulder much like he does with Jenna and she talked to him about her fleeing the country father and her rehabbing mother. Matty certainly knows about screwed up families, his brother came stumbling home drunk in "Over My Dead Body." Will that come into play later this season?
A Few More Thoughts:
It's time for Awkward to remind us Kevin is still very much alive.
Team Jakara, I'm glad that mystery is solved.
Ming is amazing this season, and I love her paranoia of the Asian Mafia.
I'm curious if the writers decided to kill off Ricky Schwartz from a peanut allergy solely for this choice quote from Val:I'm gonna stop you right there J. When was the last time you had a nut in your mouth? | permalink