The Big Bang Theory Review: Penny's Boobs

Carla Day at .
It's time for the guys to compete again. In "The Tenure Turbulence," a tenured professor was found dead in his office and that means his position is now open and ready for the taking. Let's take a moment to mourn the professor. He was dead in his office for two weeks before he was found. Very sad.
This episode reminded me of another of my favorites from The Big Bang Theory season 6 when Sheldon and Howard fought over a parking spot in "The Parking Lot Escalation."
The one-upsmanship between the guys for the tenure position cracked me up. This show is at its funniest when the guys and girls are all together for a good portion of the episode.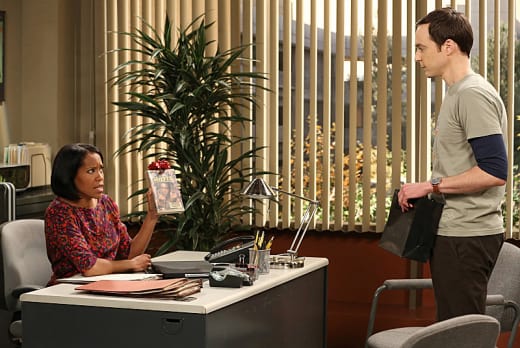 After finding out about the tenure position, there was round robin discussion in each of the households. Sheldon discussed it with Amy. She was her normal supportive girlfriend. And, Sheldon actually acknowledged it. That's a huge step for him!
Sheldon: You know, I must say I go back and forth on this boyfriend-girlfriend thing, but those moments when you worship me really keep you in the running. | permalink
Leonard mentioned it to Penny thought about how proud his mother would be to hear he got tenure. Well, if she answered his call. And, then there's Raj. His new relationship isn't quite serious enough yet, so he went on and on about how he could afford to pay for heated seats in his car. He really doesn't get it, does he? A BMW? Don't complain, dude!
Since Howard's doesn't have his doctorate, he's not in contention for the position. That put him in the position to just make fun of his friends actions. "Meercats!" He went to space. He will always have that to hold over their heads.
The Human Resources director, Mrs. Davis, that Sheldon had a run in with over his inappropriate sexual comments in "The Egg-Salad Equivalency" is on the Tenure Committee. Not good for Sheldon. And, even worse when he decides to give her a gift. He previously called her a slave, so of course the most appropriate gift is the DVD of Roots. Oh, Sheldon. Will he ever learn? It's doubtful, but that means more laughs for us.
Leonard tried to buddy up to Mrs. Davis too in the health club and nearly killed himself. And, Raj sent her a 90-minute video about his life. After those moves, none of them deserved the position if it was awarded based on kissing butt. All of their attempts were funny, but not nearly the best part.
The scene in the hallway outside of the dead professor's service was one of the funniest of the season. And, yes, it was because of Penny's boobs. Wow. That dress. I have no other words for it. If I could put a gif in my review, it would be of Raj's look and look again at her. For a guy that can't talk to a girl sober, he was getting both eyes full. 
Sheldon [to Amy]: Well, that's a fine how-do-you-do. Don't just stand there. Take your breasts out. | permalink
Amy: You're all wasting your time. Sheldon is the most qualified for the job, and no amount of gravity-defying bosom's going to change that. | permalink
Amy: Seriously, is that tape? Like, how are they staying up like that? | permalink
Leonard [to Penny]: Way to hit'em with both barrels. | permalink
And, that was followed up with Sheldon's awkward attempt to smack down Raj with comments about having coitus with his friend's mother. And, Raj's comebacks. After all the fighting, they decided they would all leave instead of continuing their quest for tenure at the service until Kripke showed up with Mrs. Davis. It was game on! They couldn't let him get the best of them.
And, in the end, Sheldon, Leonard, and Raj were all put on the short list for tenure. Will one of them get it? We'll have to wait to see. And, until then we will always have Sheldon's crazy attempt at a hip handshake with Mrs. Davis.
Which of the guys had the funniest attempt to kiss up to Mrs. Davis? What moment made you laugh out loud? If you had to pick one of the guys for tenure, who would it be?
Stop by our The Big Bang Theory quotes section for more funny lines from "The Tenure Turbulence" and other episodes.
Carla Day is a staff writer for TV Fanatic. Follow her on Twitter and on Google+.