Matty's trust in Jenna never falters, even as he endures his groupies throwing themselves at him.
But, when faced with a similar situation, Jenna had a hard time saying no to Collin in "Rubbed Raw and Reeling."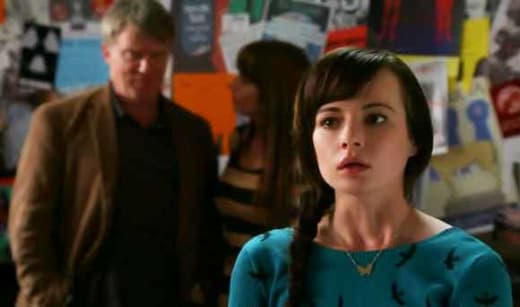 Jenna felt an instant attraction to Collin and what he offered her and his flirting was certainly something that was fun and exciting after Jenna found her relationship with Matty in a rut. Most of the problems arose from unnecessary complications: Jenna doesn't want Matty at her open mic night even though she does... and when Matty does get her voicemail she's already staring deeply into Collin's eyes.
This lead us to the BroBQ, which mainly consisted of Matty and Jake doing YouTube challenges.
Jenna's greatest obstacle through Awkward is the idea that she's never good enough nor does she take any risks. As much as Awkward - and Jenna - want me to believe this is the case... I'm not buying it. Jenna continually takes risks and baring her thoughts to the internet. She made a difficult decision between Matty and Jake and now she's finding something new in Collin.
Jenna getting with another guy isn't a problem for me,and I'm all for Awkward Season 3 exploring the ups and downs of a relationship and how Jenna deals with it.
The problem stems from how forced the stories are to get here.
The bad times in Matty and Jenna's relationship have been mostly dealing with Jenna overcoming small quirks Matty possesses; or dealing with Jenna having small doubts about her feelings in the relationship while Matty is fully committed. Their feelings and doubts were slow to build, but this installment was much more interested in forcing things along that just aren't there.
Perhaps Jenna is trying to figure out what her sudden attraction towards Collin is about and Collin is merely the catalyst that Jenna's continual self-doubt (or lack of self-awareness) laden subconscious needs to push Matty away like she did tonight by ignoring his calls.
Overall, aside from the grown-ups, everyone felt out of place. And it's a big stumble for an otherwise incredibly well written and consistent series.
Three More Thoughts:
Shame on the recap for attempting to rewrite history when Jenna asks Matty what he likes about her and he's shown as unable to come up with anything.
One more thought on Jenna's Collin dilemma: Lingering feelings for Jake. Collin is basically a watered down Jake.
Tamara Talk: Fifty shades of cray.