Congrats, "Guilt Trippin'!" You are the newest addition to my list of favorite Awkward episodes.
Going into Awkward Season 3, I had some lingering self-doubt if breaking up the triangle so quickly would end up pulling a lot of the tension and wind out of the show's sails. But it's been the opposite: the pairings have invigorated the show and the writing immensely.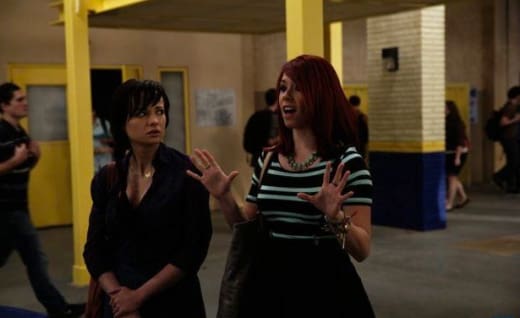 This week's installment didn't involve much drama to push forward the storylines, aside from Jenna's usual insecurities. Her guilt over having a date and remembering what it's like to not have one nearly caused her to bail altogether. It served as a nice reminder of how Jenna has come, but her obsession over it remained intense.
It all goes back to Jenna misreading the social situation and proceeding to build up expectations and ideas that just aren't there. She's done so with nearly everyone around here and now that she has a better read on everyone, she's beginning to project her insecurities - and her past - elsewhere. Those projections are a part of the social scene in her world, but at some point Jenna needs to find the confidence and security to enjoy what she has instead of worrying what others don't have.
Aside from Jenna's obsessing, "Trippin'" featured a lot of comedy comfort food comprised of just one good joke to another. I've been waiting for the next Becca and Ming skirmish in their long con war and Awkward didn't disappoint.
Ming mistaking Sadie's advice for something Becca would do and her reaction afterwards was rather amazing:
Ming: I asked a White Bitch for Asian Bitch advice! F**k me! | permalink
Jake and Matty making use of the bro-code so Matty could talk freely about his inability to dance? With Jake coaching him on the sidelines regarding which face to use? All of it was amazing.
Two More Observations:
Is it too much to ask that Becca be added as a full-time cast member? Same with Clark, but that's never going to happen since Joseph Haro has been cast in Welcome to the Family

.

Tamara talk: chillaxitive, twitch-sitch, tickle and toss me, nadaboom, bromoerotic, loop me in on your spiral.