Criminal Minds Producer Previews Season 8 Finale, Death by Replicator
Jim Halterman at .
Criminal Minds had been in the news a lot lately for reasons that go beyond mere storytelling, as a Season 9 renewal was delayed due to contract negotiations.
But the entire cast – including Kirsten Vangsness and A.J. Cook – is now on board for 2013-2014.
And following our exclusive chat with Joe Mantegna, TV Fanatic jumped on the phone with showrunner Erica Messer to talk about how these delayed deals could impact next season, along with what we'll see when The Replicator makes a return in tonight's two-hour episode...
----------------------------------------
TV Fanatic: Do contract negotiations with the cast get in the way of your thinking about next season?
Erica Messer: It definitely affects it... the good news in not doing a cliffhanger finale is that I'm not tied to any particular storyline. We can do what we did at the beginning of this season, which is just pick up and go. The whole summer had gone by and that gives us a lot of freedom in storytelling and sort of figuring out where our heroes' journey has been all summer while we've been away from them.
TVF: I don't know if it's a good or a bad thing to bring up the fact that you had the Replicator story coming back up at the time of contract negotiations…
EM: I know! That was not the intention but, oh my gosh, it's been on everybody's mind. Like 'wait, is he going to…' [and] 'oh geez, what's going to happen here?' We've never done a season long bad guy. I don't think we'll ever be able to do it again just because nobody's ever going to have this story that this bad guy has. It'll still just feel way too familiar if we ever went there again. Yeah, everybody was definitely worried about that like wait a minute. What's this going to mean?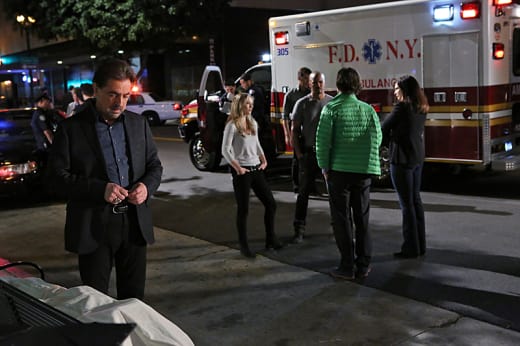 TVF: You just said that you don't have a cliffhanger so does that mean the Replicator story is going to get an ending in the finale?
EM: Well, I mean you'll have to decide for yourself if you think he's gone. We wrapped up the Replicator story. He does a lot of damage before we're able to catch him. We didn't want that threat going into next year…but we do have a 200th episode next year so you never know. You never know if the bad guy is going to come back and haunt us or not. I think it was described not as a freight train but as a bullet train for a finale. It just doesn't stop.
TVF: How do we get back into the Replicator story in that second hour of the two-hour finale?
EM: That's a great way to describe it because it's not a two-hour finale. It was never crafted the way last year's finale was crafted, which is the bank robbery in part one and then the chase in part two essentially. This was never developed as that. It's a story. The first hour is a story about Hotch (Thomas Gibson) and his brother (Eric Johnson) who got caught up in something bad and ends up calling in the BAU to help in New York. The end of that episode, the intention was always the last beat of that episode would be a Replicator beat.
TVF: Backing up to the Hotch story, I love it when you guys bring family stuff in and you've done it a lot this season. Safe to assume, then, that this will have a nice emotional arc.
EM: Yeah. It's a character we have not physically seen since season one. So, that alone is kind of interesting. Then we hear how estranged he and Hutch have been for the last seven years. I think it'll be a familiar family dynamic that people have, whether it's with an actual sibling or just a family member who you love so much and want so many good things to happen for them. It's small in that but it's also a huge defining moment for these brothers. The little brother calls on the big brother for help and the big brother is disappointed this is even in their world right now but needs to do the bigger thing of not judging and helping instead. It's a good story.
TVF: You also had a story recently where Morgan (Shemar Moore) went back to a past case and, of course, past cases also feed into the Replicator story. Did you build these stories as a way to honor the long-running viewer?
EM: Yeah. That's exactly why we did it. It also comes from the loyal fans that we have who have been with us from day one [and] the new fans that we're getting because we repeat all the time. Then also for the actors who've been here from day one. I'm the only staff writer who's been here from day one, but there's other people on the staff who were here in different capacities way back then.
So, it is absolutely a reward to all of those who have been with our show for eight years. 'Here's the things that make our heroes tick, let's examine those again.' It felt like a natural summary to that journey for Morgan. Now he can put that behind. It's defined who he is in so many ways but so do other things. Maybe good things can come his way now that he's done with that.
TVF: Talk about Jeanne Tripplehorn being a part of the show this year. From what I've seen online, it seems to be kind of thumbs up mixed with some people not loving it. What's your perspective on how her character has been folded into the series this season?
EM: Well, I think she had gigantic shoes to fill and I wouldn't want to have to fill those shoes. Paget was a fan favorite and loved and adored by everyone. The fact that she wanted to move on is something that all of us who love Paget, fans and coworkers alike, have to support that and be happy for her to go pursue other things. But coming in to replace that person, it just didn't seem fair that that was sort of her journey.
We tried to make the character as different from Paget as we could…it is absolutely zero mystery why Alex Blake is joining the team. She's been a government girl sine she graduated from college. She was a super star in different cases. I think I described it once as her halo became a noose during another high profile linguistics case. She really got publicly and professionally slighted for taking a fall that she would argue was not her call. But taking that fall during the big case. Automatically, her backstory and everything about her is the completely opposite of Paget's character.
TVF: Last Criminal Minds Season 8 finale question, Shemar had teased that we may lose somebody in this finale. Is there a chance we could lose a character because of the Replicator story?
EM:
Yes.
TVF:
A firm yes?
EM:
Yep.
Jim Halterman is the West Coast Editor of TV Fanatic and the owner of JimHalterman.com. Follow him on Twitter.