Rookie Blue made its summer return with "Surprises" - and it may may just have been the show's best premiere to date. 
It's been six months since the Season 3 finale... and Nick and Andy certainly look cozy. They've spent their undercover assignment infiltrating a drug ring, as a couple. For a moment I began to wonder how intimate they'd actually gotten.
Nick: I don't like going to bed angry. | permalink
That said, I honestly think they spent their cohabitation taking turns sleeping on the sofa.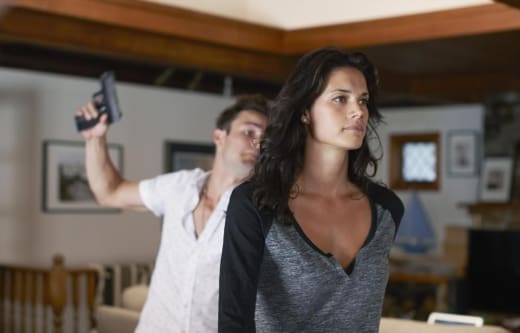 Still, these two have certainly formed a bond and Nick obviously had his own opinions about how Sam dumped Andy last year.
Andy seemed different. I think it was that she exuded a confidence we've never witnessed before. The kind of attitude that a long term undercover assignment can produce. 
Although I wanted to yell at her as she was walking outside the drug dealers house. She started asking about warrants while talking on the phone and had no idea who might be on the other side of that fence or who could have been listening from a second story window. It felt like a rookie mistake.
I guess her biggest error, though, was not thoroughly clearing that house before she started snooping. Assuming you're alone is dangerous, especially for a cop.
No one was more shocked than I was when Nick pulled that trigger. I suddenly had all these questions about the things we don't know about Nick. His explanation made sense given his background, but I'd guess this is something Andy will hold over his head for quite a while. Maybe forever.
I couldn't believe Andy picked up the phone and called Sam while she and Nick were hiding out. Obviously she still remembered his number but 911 could have worked too.  Wait, do they have 911 in Canada?
Perhaps she could have skipped the small talk and gotten right to the heart of the matter. Like telling him to trace the call and send in the cavalry before they both got shot.
When Sam finally did ride to the rescue, their stilted conversation was almost painful. All I wanted was for him to grab her and hold her... or her to fly into his arms. But that wasn't meant to be.
However, that's exactly the reunion that Nick received after Gail socked him in the jaw. Let's face it, though, he had that coming.
Speaking of Gail, the girl may have gone all zen but she certainly hasn't lost her snarky humor. I couldn't believe she lied to Chris about the letter. Actually, I could completely believe it. That was so cruel... and funny. That's why I've always loved Gail.
So now Chris has a decision to make: Stay at 15 and risk his relationship or head to Timmons and be professionally bored to tears. Honestly, Chris has never been a favorite of mine so even if he left I wouldn't be heartbroken. Yet I am interested to see how the show resolves this personal/professional crossroads.
Only Dov would announce to his friends and coworkers that he's been celibate for six months. Personal and professional boundaries don't really exist at the 15th.
As if to solidify that thought, Andy walked in on Sam kissing Officer What's Her Name. Yes, Andy's the one who walked away six months ago and Sam had the right to move on... but I hate Officer What's Her Name anyway. 
And, no, I stubbornly haven't learned her name. I'm guessing I'll have to, but that can wait until next week. I'm too busy hating her now to be bothered.
The look on Andy's face was the epitome of wearing one's heart on their sleeve. Her expression was one of raw hurt that she couldn't hide. As she said in this Rookie Blue quote...
I don't hate change. I hate surprises. | permalink
I think she's about to get plenty of both.
But this was only episode 1. We have 12 more to go, which gives us all the time in the world to get Sam and Andy back together. Welcome, Rookie Blue season 4. Bring it on.
C. Orlando is a TV Fanatic Staff Writer. Follow her on Twitter.