Scandal is really heating up leading into the final two episodes of the season. And I'm not just talking about those closing scenes!
The drama is getting intense. The secrets are coming out. And Mellie's spilling half of them proving, once again, that Hell hath no fury like "A Woman Scorned."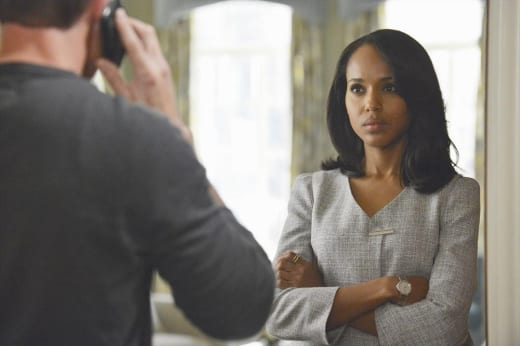 This episode was so intense I barely have any notes. From Olivia and Fitz to the team's search for Charlie, I was completely riveted.
I actually thought Cyrus was going to try to have Olivia taken out! Or that he would have a heart attack from all the angry screaming and tunnel traipsing he did tonight!
Cyrus going back and forth trying to broker a peace between Mellie and Fitz was great. He seemed to be the only one who was aware of just what, exactly, would happen to their entire operation should Mellie go public with the news of Fitz' affair. 
Mellie, like he said, was thinking like a wife whose heart has been broken too many times. Fitz was thinking with his, well, his heart. 
He may have just tossed aside an entire nation for Olivia Pope tonight and if that hadn't been enough to earn her then I don't know what more she could've wanted him to do. 
I don't really ship these two because I find their relationship more unhealthy than whole most of the time. Having Jake follow her everywhere to keep her safe was creepy. He's kind of volatile. When he's mad, he's really mad. And when he's saying the right things, they're a little too right. He's cocky and used to getting what he wants. Fitz can't really be there for her the way a guy who isn't President could be. 
Olivia will always question all that he gave up to be with her and wonder whether or not he truly believes that it was worth it. Happiness isn't something she can trust. And, quite frankly, given her speech to Edison about wanting a heartbreaking love, I don't think she can really handle a normal relationship with Fitz. If they're happy together and there's no Mellie in the way, what then?
There are so many reasons why these two do not work and why I want to see her with someone else. 
But then Shonda Rhimes puts Kerry Washington and Tony Goldwyn on a set together and it's like the Fourth of July and I find myself cheering on their affair and sort of hating that they have so much chemistry.
The fallout from Mellie's proclamation is coming. What it will be, I have no idea. I imagine Olivia will be the one to help Cyrus spin it somehow, but how, exactly, I don't know. She's in this up to her eyeballs and Olivia can't nor should she ever trust Mellie to keep her name out of the news. 
Mellie's out for blood. I can't really say that I blame her.
If she ruins his career, she can always start over and rebuild her own without his help, denying whatever allegations Cyrus spreads. Once Fitz is ruined, that's it. He's done. 
In other marital strife, James and Cyrus! Cyrus can't really hold the interview against James. James had no idea what Mellie was going to say and this is his first day on the job. Somehow, I think he will though. It seems like Cyrus to misplace his anger, at least temporarily. I suppose he could always be mad that he didn't get a phone call that James was conducting the interview. I just hope Cyrus is on an aspirin regimen. And that he has Tums. And gets his blood pressure checked regularly.
In non-White House news, Huck identifying Charlie from a picture of his ear made me chuckle a little, as it was supposed to. Watching Huck try to list all the information he has about Charlie was sad.
One of Charlie's likes? To kill people. And cannoli. Good to know.
Charlie's playing double agent and it seems like the guy Jake keeps meeting with doesn't know Charlie is alive. I'm really interested in the Charlie-Jake-Huck spy-assassin showdown that is no doubt coming. Huck has a score to settle with Charlie. Jake needs to cover his tracks. It's only a matter of time.
Charlie has a target on his back. And since he's playing double agent and working for Albatross and Cyrus, he really needs to watch out.
Bits and pieces:
David is slowly becoming one of the OPA team. Harrison seems not to like it, but there's no denying David's a valuable asset.
Quinn showing David how they do things without a badge was a nice nod to all the things she's learned.
Huck telling Olivia he doesn't want her to die was sweet.
What did you think of "A Woman Scorned"? Were you excited by Fitz and Olivia's reunion? Who do you think Albatross is? Don't forget to check out the
Scandal quotes
page for more Gladiator goodness!
Miranda Wicker is a Staff Writer for TV Fanatic. Follow her on Twitter.