The Big Bang Theory Review: The Zachary Quinto of Change

Carla Day at .
What initially appeared to be another Big Bang Theory episode of the guys and girls splitting up to have fun on their own turned out to be something entirely different.
"The Love Spell Potential" ended up slightly reminiscent of the game night episode, but not nearly as funny. Though absent from the the first game night, Howard (and especially Simon Helberg) stole the night with his spot on and seemingly endless impersonations as Dungeon Master.
Even the adverse-to-change Sheldon was won over by Howard's abilities. He's the Zachary Quinto of Dungeon Master!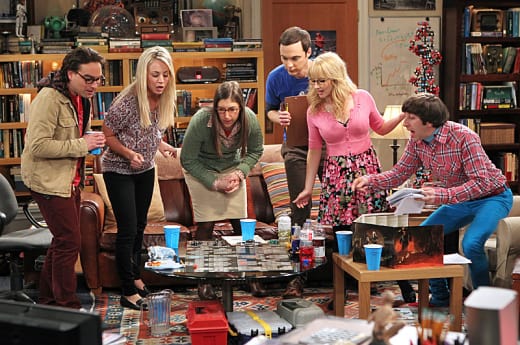 The exchange at the beginning between Leonard and Sheldon about the latter's inability to accept change was a nice set-up for the episode. Sheldon didn't realize it, but he was going to have to face plenty of changes this night and he did a surprisingly good job of accepting them.
Leonard: Sometimes change is good. You were worried about Zachary Quinto being the new Spock, but you ended up liking him.
Sheldon: Leonard, please, every time the topic of change comes up you throw Zachary Quinto in my face. I'm upset the mailman has a new haircut -- Zachary Quinto. I'm upset daylight savings time started -- Zachary Quinto. I'm upset daylight savings time ended -- Zachary Quinto. I'm saying this for the last time. Zachary Quinto was a weird, wonderful, unrepeatable event, so stop using him against me. | permalink
Even though I've never played D & D and some of the very inside game references were a little lost on me, the use of the impersonations and descriptions provided plenty of insight to make the jokes funny. And even better was Penny's co-opting of the game and turning it into a craps-style D & D mash-up. They all got into the excitement of the dice throwing, even Sheldon.
The tone shifted when the game was used to push an intimate relationship between Sheldon and Amy. A love potion in the game between their characters started out as a harmless way to help Sheldon, but instead it upset and humiliated Amy. She desperately wants Sheldon to be able to demonstrate his affection for her in a normal, sexual manner, but he's incapable of that.
The night began with the guys playing D & D and then shifted into a D & D Vegas party, but in the end it turned into a more somber and serious moment as Sheldon went to Amy in his bedroom. His inability to really comprehend her issues was made abundantly clear when he said they were finally on the same bed after three years. No joke intended. As much as, Amy is the center of jokes, she really does love him and it turned out he loves her too even if he doesn't express it overtly.
They may not have made passionate love in Sheldon's bedroom, but they were able to find a way to share intimacy in their own unique manner: D & D virtual intimacy. Fantasy land for the both of them. And, for now, it appeared to be enough for Amy. And, perhaps, over time Sheldon will become more comfortable with his own sexuality and be able to share that with Amy.
Amy's response to Penny and Leonard checking in on them was a highlight of the episode.
 Go away, Sheldon is nibbling on my ... 14. Yes! | permalink
While the D & D fest was going on, Raj and Lucy were going through their own relationship issues. While their insecurities brought them together, those same feelings caused complications as well. Raj thought he was helping Lucy overcome her fear of asking for what she really wants, but she wasn't ready for that step and she did what she does. She escaped through a window. 
When Lucy was trapped, she reached out to Raj and that took courage on her part. Despite their issues, they were honest with one another. Their kiss through the chain-link fence was adorable. It's taken until The Big Bang Theory season 6 for Raj to find a girlfriend and I hope that he and Lucy can continue to stick it out and grow together.
Check out some of the funniest lines from "The Love Spell Potential" in our The Big Bang Theory quotes section.
Which of Howard's impersonations was your favorite? Hit up the comments and share your favorite! And, do you want to see Sheldon and Amy become truly intimate? Or, would that take away from their unique relationship?
Carla Day is a staff writer for TV Fanatic. Follow her on Twitter and on Google+.