The Big Bang Theory Review: Solving the World's Energy Crisis with Potatoes

Carla Day at .
Sheldon has the tendency to go cuckoo over the craziest things, but that's why we all love him, right?
In "The Proton Resurgence," Sheldon was ecstatic to find out that the host of his favorite childhood science show was available to do parties. And, what did he do? Of course, he hired Professor Proton to come over and do a party for him, Leonard and Penny. The premise was ridiculous, but it ended up being quite funny.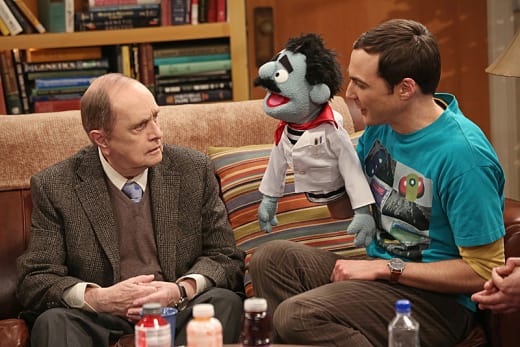 Given Sheldon's excitement over meeting Professor Proton, Amy should have been there. Wouldn't he have wanted to share this moment with his girlfriend? There wasn't even a comment to explain her absence. Given their relationship, that was an oversight, but as far as the jokes went, it worked better without her.
The character, Sheldon, is all over the place on The Big Bang Theory. In order to enjoy the show, I've come to just accept whatever craziness comes out of him whether it really makes sense or not. In this case, his excitement over Professor Proton wasn't the issue, it was the naivete that came with it. The same was true with Penny in this episode just in a different way.
Penny's ignorance of science was bright as the Las Vegas Strip. She definitely came across as dumb, but it was actually quite adorable at the same time. Though, how did that egg thing work? And, I only know about the potato clock because I did it in elementary school. If I hadn't learned that in school, I would have probably thought the same thing as Penny.
Her exchanges were the highlight.
Professor Proton: I power a clock with a potato.
Penny: Shut up! You can do that? I mean ... wouldn't that solve the world's energy crisis?
Professor Proton: No. | permalink
Penny: If you don't mind me asking, uh, the potato clock -- how does it work? Is it a trick clock or a trick potato?
Professor Proton [to Leonard]: What do you two talk about? | permalink
Professor Proton: I'm having trouble with my pacemaker.
Leonard: I'll call for help.
Penny: Any chance we could plug it into the potato?
Professor Proton: No. | permalink
Arthur went from impressed that Leonard was with Penny to flabbergasted by her comments. Though, she was the only reason that he stayed as long as he did. So, that's saying something.
It was sad to see that Arthur was disappointed in his life's direction after the show. He was a real scientist, but was trapped by his past. Even after Sheldon and Leonard shared that he was responsible for their love of science, it didn't seem to be enough. He was a broken man. If "Soft Kitty" couldn't cheer him up, nothing could. Though he did seem to warm up to Sheldon after he called him "Father."
It's too bad we didn't get to see Professor Proton, Jr at work. After the disastrous science presentation they did for the school girls, I'd be afraid what he would say at the party. Though, he does have the puppet to help.
The Professor Proton bit was definitely the better part of the episode. And, Bob Newhart was awesome as Professor Proton. There were some cute moments with Raj and Cinnamon. Howard and Bernie's conversation about having kids was also good, but that storyline fell mostly flat. 
There were a ton hilarious lines throughout the episode. Check them out in our The Big Bang Theory quotes section. 
Did you find Penny's potato comments to be the funniest part too? What was your favorite joke or quote? Can you see Howard and Bernie becoming parents any time soon? Did you miss Amy?
Carla Day is a staff writer for TV Fanatic. Follow her on Twitter and on Google+.