The Big Bang Theory Season 6 Report Card: A-

Carla Day at .
The Big Bang Theory season 6 started out fairly well with quite a few hilarious episodes, but it also included a few misses. In the Midseason Report Card, I hoped for a more consistent second half and the sitcom definitely met my expectations. It picked up on what worked and provided plenty of laughs.
Check out the The Big Bang Theory Report Card and then stop by and review some of our other Report Cards: Person of Interest, Castle, The Vampire Diaries and Once Upon a Time.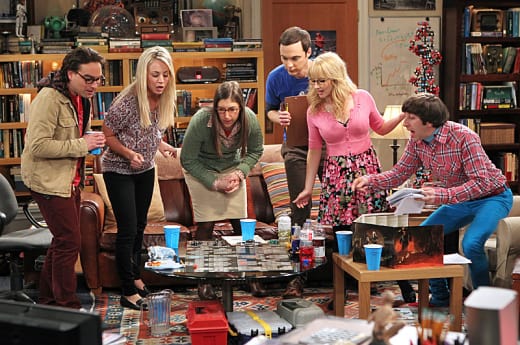 Favorite Episode: For the second half of the season, I'd go with "The Tenure Turbulence" because full cast was involved in the same storyline. And while it was definitely sexist, Penny and her boobs were one of the funniest scenes of the season.
Worst Storyline: The idea of the guys giving a presentation to young girl students about science had so much promise, but it bombed ... big time. It was embarrassing and even if the point was to point out the misguided methods that schools use to promote science, it still was a big fail. I hope to never see that presentation again.
Biggest improvement: In the worst episode of the season, "The Decoupling Fluctuation," Penny started questioning her relationship with Leonard again. Her back-and-forth on their relationship got ridiculous, but after that the couple settled into a comfortable relationship and the show was the better for it.
Best Character Development: Raj talked to Penny WITHOUT alcohol! Raj's unique social anxiety provided for plenty of funny moments throughout the seasons, such as talking through Howard. Given the frequency of his interactions with females now, it was time for him to move forward. 
Most Memorable Girl Group Moment: While the guys headed to Bakersfield for Comic Con, the girls stayed home and tried to figure out the appeal of comic books. Their comic book discussion was hilarious from start to finish. "The Bakersfield Expedition" was one of the best of the season.
Most Touching Moment: In "The Closest Reconfiguration," Howard had kept an unopened letter from his father for years. When Sheldon read it and then told everyone what was in it, Howard was understandably upset. The group came together in a rare tear-jerking moment and told Howard items that could have been in the letter. It was a super sweet and rare emotional moment for the show.
Jaw-dropping Moment: When Penny asked Sheldon, "You ever going to sleep with Amy?"
Best Relationship Growth: While I'm thrilled that Penny and Leonard's relationship has stabilized, it's Sheldon and Amy's romance that grew the most. From putting Vaporub on Amy when she was sick, to Sheldon's honest response to Penny's sex question, and then Sheldon and Amy's D&D virtual intimacy, Sheldon has grown immensely. Will they ever get physical? Perhaps, but these baby steps in that direction work with the character and provide humor.
Best Guest Star: Bob Newhart as Professor Proton was hilarious. His dismay at Penny's ignorance and irritation at Sheldon and Leonard's admiration was perfect. He definitely needs to return in season 7. "The Proton Resurgence" was other highlight of the season.
Overall Grade: A-
Hopes for The Big Bang Theory season 7:
Now that Raj has found his voice, he deserves to find a worthy girlfriend. He's a catch! He's attractive, has a good job, is funny, has good friends, and his family money doesn't hurt. Lucy was good for helping him grow, but now he should move on.
Leonard and Penny move their relationship forward. Penny should ask Leonard to marry her later in the season.
Sheldon's show Fun with Flags is retired and not to be seen again.
The return of Bob Newhart!
Was The Big Bang Theory season 6 a BANG? Or a BUST? Grade the season!
Carla Day is a staff writer for TV Fanatic. Follow her on Twitter and on Google+.