With The Originals on tap for this fall on The CW, taking away three key players from The Vampire Diaries universe, fans of the latter drama are understandably wondering:
What now?!? How will Julie Plec and company make up for the losses of Klaus, Claire and Elijah on The Vampire Diaries Season 5?
It's a question Plec has pondered and it's one that was answered in part by the title of the Season 4 finale: "Graduation."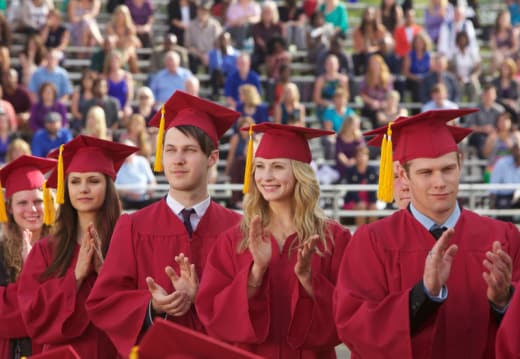 "We're definitely going to be entering an entire new world at Whitmore College, so we'll get to meet new friends and new enemies," Plec tells TV Line. "There'll be a lot of new people entering our universe that we'll get to know well - and then also maybe some new romantic interests for some of our characters."
Hmmm... to whom might Plec be referring? Damon and Elena are together. Bonnie is a ghost. Stefan is locked in a submerged safe. Caroline will be welcoming home Tyler. But Matt will be left alone when Rebekah ditches him for New Orleans and perhaps Jeremy will desire a girlfriend he can actually touch.
We have until October to debate the possibilities. Are you excited for The Vampire Diaries: The College Years, TVD Fanatics?
Matt Richenthal is the Editor in Chief of TV Fanatic. Follow him on Twitter and on Google+.