"Reality Check" provided Jenna with some much-needed closure on her feelings for Collin.
I might have been a little hasty last week with my Jenna judgments. Because Awkward is told from Jenna's perspective, we are always going to be privy to her own neuroses in details that wouldn't necessarily be included otherwise - and that's hard to put up with sometimes when Awkward is filled with fantastic characters.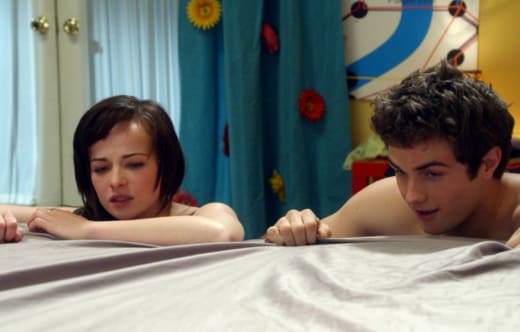 Jenna's fantasies about Collin are just that: fantasies. But she has no real perception on them or avenue to put them because she keeps mistaking those feelings for the real ones she has with Matty. It took the entire Awkward village to put Jenna's pieces together and this sticks out the most: how different Jenna and Matty are in their viewpoints of the relationship.
Everyone knew Jenna's steamy fantasy paper had everything to do with Collin and nothing to do with Matty, as Jenna gave him the paper to read without any context. Matty, being the completely trustful guy he is, read it as a need to inject more romance into their relationship. This is my biggest problem with Awkward Season 3.
For the entire series, Jenna has been fought for... but she's never done any fighting of her own aside from these fantasy feelings for Collin. Matty's love and affection for Jenna feels entirely one-sided at all times. Jenna barely gives Matty any reciprocated affection aside from them having sex.
As for Collin, there are times I really like the guy and his help in breaking Jenna out of her writing shell, but with so many Jenna fantasies about him I can't decide if he's being a bit of a player with her or if he just attempts to be suave with all women at all times.
Ming is quickly becoming one of my favorites, especially in her continuous war with Becca, so I'm not entirely sure what I'm going to do now that Ming has won with the only advantage she had against Becca: being white. With Becca dethroned in a stack of affidavits and Ming being the new reigning Hello Kitty... what happens to their feud now? Is Becca going to demand a rematch?
Three More Thoughts:
Tamara Talk: dramastic, flirtationship, YASAP
Are the side stories finally going to get going again? Sadie's troubles have all but disappeared except for shopping retail; Lissa, for all I know, is stuck somewhere; and even Jake is being sidelined a little bit.
Next week is Awkward's midseason finale.