Keegan Allen Teases Pretty Little Liars Season 4, Major Toby Drama to Come
Jim Halterman at .
First he was good... then bad,...then good again (or so we think).
Then he was alive, dead and then alive again.
Yes, it's safe to say Pretty Little Liars Season 3 was a rollercoaster for Toby Cavanaugh – and for viewers – but from what his portrayer, Keegan Allen, told me last week about Season 4, there's much, MUCH, more to come.
While the star had to be careful not to spoil much of what is apparently a juicy premiere, Allen did give us a glimpse into what's to come for Toby; whether his relationship with Spencer is solid or shaky; and, most importantly, whether his shirt will be coming off much in the coming episodes...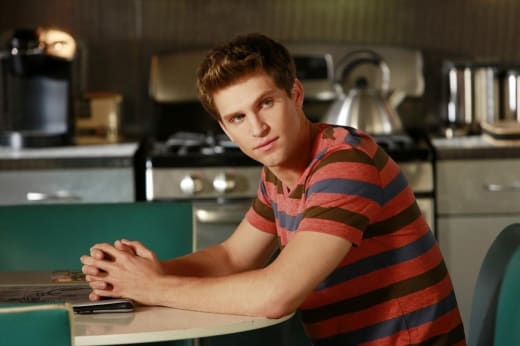 TV Fanatic: What can you tell me about Toby's arc in these first episodes back.
Keegan Allen: We come back and [Toby] is having a very smooth ride with Spencer and he gets some news from A that kind of pushes on a wound of Toby's past and his past life with his mother. And we finally get to dive into his background for the first time ever.
I mean, he's certainly a character that has been shrouded in mystery and we really don't know that much about his past and now we get to kind of kick into it. The mystery revolving around this character was something that I was always very intrigued about and so it was fun for me to see more about my character in the past as well as what the audience is going to witness in season four.
TVF: Well, knowing this show and how [Executive Producers] Marlene [King] and Oliver [Goldstick] and the writers like to write these characters, I'm guessing his past is not the happiest of pasts?
KA: Yeah. They are brilliant. And Marlene King, it's just straight from the writer's mind and in a way that is very appropriate for Rosewood and it's a very dark past. It's heartbreaking as well as mesmerizing.
TVF: With what we're going to find out about Toby, is it something he's going to share with Spencer?
KA: This is something that he does end up having to tell her because there's some things that...he performs some actions that need to be explained and his explanation kind of links him to his past. And Spencer and their relationship have formed around this predicament that he finds himself in.
It's really interesting because it puts the viewer in a position with Toby where you're with him between a rock and a hard place. I mean, I wouldn't know what to do if I was him, so it's great to see that.
TVF: Wow. Now do you think it's safe to say that Spencer (or we the viewer) can trust Toby or there's still some trust issues?
KA: You can never really trust anybody in the realm of Rosewood or in the books for that matter, but as far as her trusting him, there's a bit of a strain there. We just witnessed this character come full form redemption from joining up with A and now there's a whole bunch of reasons why Spencer feels like she can't trust him. And it's tough. It's a tough situation, but I think we get to see what this relationship has really meant to both of them.
TVF: I know there's probably a lot of secrets you can't talk about, but do we see Toby interact with Mona at all?
KA: There is a couple of...I don't think...I can't really tell you. I don't know when there will be an interaction again with Mona, but yeah, there was a lot of interaction with Mona in the past and now she's dealing with her whole slew of girl issues with A and Red Coat.
TVF: Another question, since you said that we're going to dive into Toby's past, do we see flashbacks or is it more like his past kind of comes into his present and that's how we learn about things that happened?
KA: A bit of both.
TVF: So we meet Toby's mother?
KA: We will have a flashback where we get to meet his mother and we get to see him back when he was actually friends with Alison. So we get to see why all of that kind of happened and where the animosity came from.
TVF: There was a period the end of last season when we thought Toby was dead and you were missing from several episodes. Do we find out what happened to you during that time and like what you were doing, like specifically?
KA: Yeah, you do. It ends up being talked about when the two characters, Caleb and Toby, have like a bit of a team up to find out more about Red Coat. He does kind of dive into what happened during the absence of him in Rosewood.
TVF: Have you been having to watch your diet because they're going to have your shirt off a lot this season?
KA: No, I have not had my shirt off…but yeah, I haven't really been watching the old diet too much.
TVF: Anything in particular you're excited for fans to see with these new episodes? Because I've been teased even by the publicist, by Amanda, that there's some big stuff that happens pretty much right off the bat.
KA: I'm just excited for everybody. I really want my current fans to watch again season one, two and three, which are now available on Netflix, all of them, if they are so inclined to, or if you want to buy the DVDs…to catch up and to watch all of the episodes so that they are in that head space when 401 comes back, when season four starts back up with the premiere.
And there's so many answers to questions that revolve all the way back to season one and it literally is like bam, bam, bam, one after another answered question. So it's rewarding on that level that I can't wait to see people on Twitter or social media be like 'oh my God! I knew it!' or 'oh my God! I had no idea!'
Pretty Little Liars Season 4 kicks off Tuesdays at 8 p.m. on ABC Family.


Jim Halterman is the West Coast Editor of TV Fanatic and the owner of JimHalterman.com. Follow him on Twitter.