This sixth season of Mad Men had its ups and downs, but "In Care Of" was a brilliant finale.
The journey that Don Draper has been on throughout these past six years has been a long and arduous one, yet during this final hour he may have matured more than we have ever seen.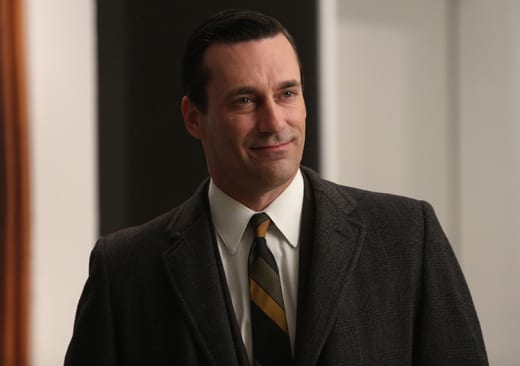 This is where I grew up.
For Don to get to that point, the point that he was able to bring his children to the house in which he was raised and tell them the truth, was only slighty short of shocking. What else he told his kid I'm not sure of, but it was the last of many moments in the finale that had me hoping that we don't lose THIS Don Draper when season seven starts up.
I've complained in the past that Mad Men has too often brought Don back to his status quo when things seem like they might be going too well. After what he's been through in season six, if this recent change of attitude is only followed up by him drinking through depression and cheating on whoever his lady is in season seven, it will undoubtedly retroactively change how momentous the events of this episode felt.
Don told the truth.
In what was the final straw in leading to his "time-off," Dick Whitman gave his own pitch to Hershey's after Don finished up. Whether it was the fact that he quit drinking recently, that he realized all of the awful things he had done as of late or that he truly loved Hershey's chocolate and needed them to know why, Don revealed himself to his partners in that meeting. None of them knew if he was being truthful.
It was a powerful scene played perfectly by Jon Hamm. When Don mentioned that the chocolate made him feel like a normal kid, and was on the verge of tearing up, I almost stood up and applauded. It was the shock and awe on everyone's face in that meeting that made the whole thing work. Ted, Roger and company had no idea what was going on, which put the exclamation point on the whole production.
Immediately afterward, Don gave Ted his spot in California. It was a nice gesture. The act would help save Ted's family, and hopefully save Don's as well. Not in the case of Megan, who may not be back after storming out on Don late in the hour, but in regards to his children.
With potentially no job and no wife, and the fact that he's beginning to tell the truth about his past, will Don's kids begin to look at him differently? Will Sally forgive him for how awful he has been? Will Bobby get to know his father more personally? Will Gene only remember a good Don Draper?
If all this evil in Don Draper had to be expelled in order for this story to end in him being a better man, a better father, I will be pleased. Again, if things regress again in season seven, I'll be livid.
The major changes surrounding SC&P in the finale didn't all revolve around Don, though. Ted and Pete are heading off to California. Bob Benson is presumably the primary accounts man with Chevy in Detroit. And Peggy, she ended "In Care Of" sitting in Don's former chair as what has to be the role of Creative Director at Sterling Cooper & Partners.
She loved Ted, but you have to assume that running the department of the agency she came up in as a secretary has to be a nice consolation prize for Peggy. Unfortunately, now she won't have to get all dolled up and stroll around the office in her push-up bra anymore.
If we see less Pete Campbell next season because he's on Sunkist in California it will be a shame. He has been fantastic all year long, but never better than his reaction to Bob Benson's "How are you?" in the elevator. Frantically running in with luggage in tow, Pete - with the weight of his mother's apparent marriage to Manolo and subsequent death at sea on his shoulders - replied "Not great, Bob!" in a way that only Vincent Kartheiser could do it justice.
With two of the agency's best now out in California in Ted and Pete, you have to wonder what Stan is thinking to himself right about now. He has to be kicking himself for letting Don in on his plan to build one desk into an agency. The idea spread like wildfire, and poor Stan is stuck in NYC.
I don't know where or when things will pick up next season on Mad Men, but after how they ended things, I simply cannot wait. There's something to be said for finishing up on a seriously good note, and that's exactly what "In Care Of" did for season six. 
What did you all think of the Mad Men Season 6 finale? What were your favorite moments? What didn't you like about it? Did you enjoy seeing Don tell the truth?  Were you sad to see Ted leave Peggy? Where do you think things are heading for season seven? And, most importantly, what is your fondest memory of Hershey?
Dan Forcella is a TV Fanatic Staff Writer. Follow him on Twitter.