After all of the Royal Pains shockers that came out of "Hank Watch," "Blythe Spirits"proved a great follow-up. It both answered some questions and caused us to ask more.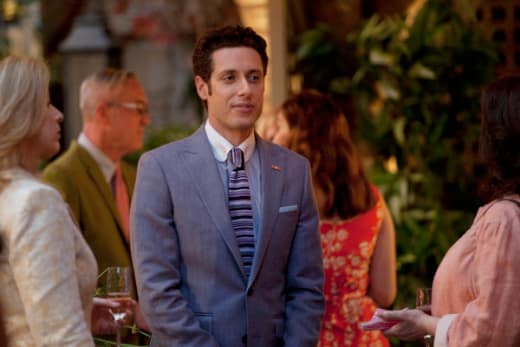 When we left off last week, we found out Divya was pregnant and Mrs. Ballard served Evan with a cease and desist letter for HankMed. This installment, we moved forward in both plots.
It seems Divya's pregnancy revelation had a lot more to it than simply finding herself expecting. A childhood accident had apparently rendered her unable to conceive, or so she thought.
The impossibility becoming a reality was a key component impacting Divya's behavior, which caused her to lash out at Paige early on. It was terrible to have it come to the end of the episode and there be a possibility that the pregnancy won't be viable. The turnaround on her fortune, and its impact on her moving forward, will definitely be something to watch.
Something else to watch moving forward will be Paige and her unfailing ability to fix things. This week, she taught us the difference between how old money and new money solve their problems. The answer: Cocktails. It certainly seemed to work, if the flowers and retainers were any indication, swiftly putting Blythe Ballard in her place.
If only staying operable was their only issue. It now appears that Symphonia wants to by HankMed. We all know what happens when mergers occur. Unless there are stipulations on the table, in legal writing, there's always a chance that promised autonomy is only temporary.
I see the possibility of HankMed taking the buyout offer as a problem for several reasons, chief among them the possibility of the person offering to purchase them not making it long enough to see it through. It was revealed that Shelby Shackleford suffers from MS. While I don't know much about the condition, it seems to be degenerative. If Shelby Schackleford's health deteriorates to the point that she can no longer act in her current capacity, that means she'll have to step down. Regime changes are messy, and successors don't always see eye to eye with their predecessors, leaving HankMed and the way it traditionally operates in jeopardy.
While clearly no decisions have been made regarding the potential acquisition, Divya and Jeremiah have yet to make their exploratory trip to Savannah, these are definitely some things to keep in mind as you watch the season progress. I highly doubt anyone, especially Divya, who is the only one who knows about Shelby's condition at this point, has, or even will, stop to consider this.
Speaking of Jeremiah and Divya, I am loving that Jeremiah has returned to the Hamptons and yet refuses to attend any HankMed functions. Clearly he's got it bad for Divya, but he really needs to get over it because I miss him and his quirkiness.
We did get to see him treat Hank. I've decided that perhaps Hank's decision to involve Jeremiah was the best decision he made. He really is a stickler for procedure and surely wouldn't let him get away with anything, especially addiction to pain killers. You saw how insistent he was that Hank give him a blood sample. I find this to be comforting.
What I wasn't finding very comforting for a while was Evan's ghost theory. As we know, Boris isn't dead. Now we also know that Dmitri and Boris were half-brothers, making this ever-deepening plot delve even further into unknown territory. I could have sworn it was going to be revealed that Boris was alive today, but props to the writers for thinking up the surveillance tape angle. Way to draw it out, guys.
Other highlights from the episode:
Evan on the Segway. I have never wanted to try one more than I do now.

 

Evan and Paige going door-to-door to invite the neighbors to the open house.
Jeremiah backing himself into a corner over the trip to Savannah. Time to face your feelings head on, buddy.
Evan continuing to be Jeremiah's not-so-silent support on the Divya front.
Paige and Divya becoming even closer gal-pals. After Jill's exit, Divya needed a new confidante.
Evan thinking that Boris' ghost was roaming the halls of Shadow Pond.
What do you think Dmitri is up to? What will become of Jeremiah and Divya's trip to Savannah? Sound off below!
C. Charles is a TV Fanatic Staff Writer. Follow her on Twitter.