The cast of Nikita said goodbye to Comic-Con yesterday.
During a panel discussion that featured creator Craig Silverstein and stars Noah Bean, Melinda Clarke, Aaron Stanford, Lyndsy Fonseca, Shane West and Maggie Q, everyone had a chance to chime in on what we can expect from a six-episode Season 4.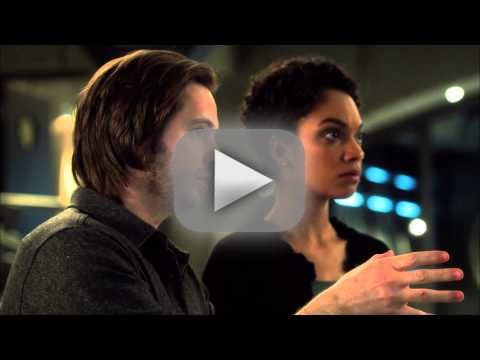 Maggie Q, on where the action will pick up: "We don't have to build to anything, we just get to it. When Nikita sees Michael again, it was a weird way to leave it, but it's a decision made of love. She left because she really really loved this man, and that's what it was about."
West, on Michael's state of mind: "Michael may have gone dark again, especially after [Nikita Season 3]. It's going to be a really fun dynamic to play. He's always going to love Nikita, and this will put their relationship to a test."
Fonseca, on the future for Alex: "Alex has been through a lot and is in such a delicate place, but what does Alex do with her life? She doesn't have to hide from anyone and is a real person and she's going to take advantage of that. But it's a tricky balance to be normal during the day and play spy at night."
Silverstein, on a mobile Division: "Their lair is an airplane, so they can be in different places around the globe. We're never going to top the lair from first season, then they had a beach house, Division was destroyed last season, so we couldn't do a hideout, so now we're going to be in the sky."
Clarke, on the evolution of Amanda: "We purposely kept her enigmatic, then peeled back the layers of the stinky onion. But this character befuddled me. I never knew what the motivation was, but I always tried to ground her in love, and we learn it was a betrayal of love from her father and it carried through with Nikita to destroy her and teach her a lesson. I understand somewhat what she's motivated by."
Silverstein, on Amanda: "She is too evil to destroy Our plan was to kill Amanda at the end of last season. She was dead, and something happened and we could not kill her. She survived everything we had up on the board… She's the big bad and so is Nikita in a way. She's her own worst enemy."
Maggie Q, on learning the fate of the series: "My heart hurt, because I have a very deep love for them and miss them. Then I got over it...  We get to end this show with our heads high. I didn't want it to [drag out]. I wanted to go out and people feel full but still a little hungry."
Matt Richenthal is the Editor in Chief of TV Fanatic. Follow him on Twitter and on Google+.