Revenge fans were left hanging last May, as Emily confessed her sins - along with her true identity - to childhood sweetheart Jack. But where Season 3 will pick up, and who Emily will pick things up with, is anyone's guess.
So we're making a list and checking it twice. No, not what we want from Santa... but what we hope to see on Revenge come fall.
Scroll down for a list of various predictions and forecasts and then sound off on what you're looking forward to this fall.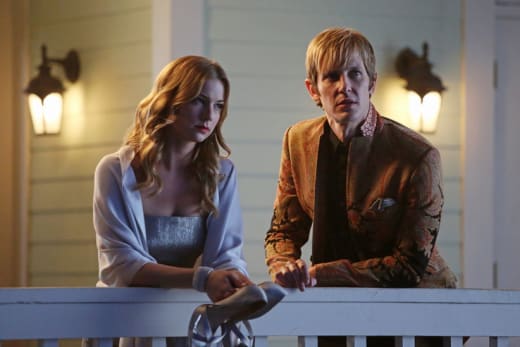 Nolan Out of Jail. The Hamptons' adorable, techie, genius won't do well behind bars. And what will Emily do without her beloved partner in crime? He needs to find a get out of jail free card ASAP.
Victoria and Conrad Together. No, not for the romance! But no one else does snarky comments better. These two are at their best when they're tearing one another apart. Even hate sex between them would be highly entertaining.
Daniel Learns the Truth. Now that Jack knows Emily's true identity, what if Daniel was the next to know? Would he call her out, or jump on board with her Revenge plans?
Charlotte & Auntie Em. Charlotte's pregnant and Declan, her baby daddy won't be around to help. What's a knocked up socialite to do when her parents are borderline sociopaths? Move in next door. The pregnant teen could bring out Emily's softer side and as an added bonus the new living arrangement would make Victoria even more insane.
Jack and Emily Unite. Yes, it's probably a long shot but Jack's brother is dead. His wife is dead. Heck even his dog is dead. And when we left this single dad he was trying to put a bullet in Conrad Grayson. Will Emily's confession send him spiraling out of control or can the two work together to bring down the Grayson clan?
Kill the Initiative. The conglomerate of all things evil should have been compelling but it ended up being last season's snoozefest. We hope the show moves on or at least keeps the dreaded Initiative off camera for a while.
Aidan Returns At the end of Revenge Season 2 we were left to wonder if Daniel shot Aidan or if Aidan was even alive. What will Emily do if he returns just as things between she and Jack heat up?
More Nolan - Why were David Clarke and Nolan so close? Why would he choose Nolan to look after his little girl? There's got to be more to this story and we want to know what it is.

Okay, Revengers. It's your turn. Which of the above would you like to see in Revenge Season 3 and don't forget to let us know if we left anything out in the comments below.
C. Orlando is a TV Fanatic Staff Writer. Follow her on Twitter.