Have you ever watched a show and wanted to yell at the murder victim right before she died?
I had that reaction to "In Over Your Head" when Brenda strode up to the dark, scary, hooded man in the parking garage. I know she was a naive college student looking for the big story - but that move was unbelievably dumb.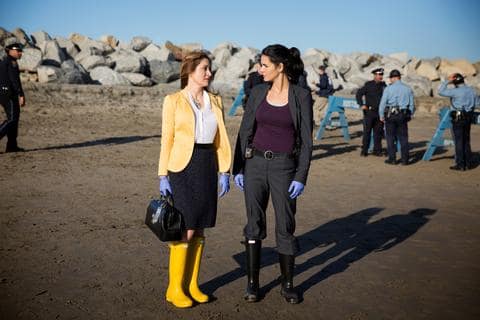 It was absolutely no surprise that it ended up getting her killed.
However, the reveal of the murderer felt like it came out of left field. That Bob Thatcher was a jackass who everyone hated was fun, but having him be the culprit never felt like it made much sense. And I would have thought he'd have fought much harder to keep the case in his jurisdiction at the beach.
Of course, Frost and Korsak dragging that body back into the surf was damn funny. And was I the only one who preferred Jane's yellow boots to Maura's $550 heels?
Frankie really couldn't catch a break with his new boss, as he said to Jane in this Rizzoli & Isles quote…
I finally get promoted to detective and my boss hates Rizzolis. Thanks Jane. | permalink
Apparently a torrid affair and a dead CI stood between Jane and Raphael. After eight years, it was about time they came to terms with it.  With Casey in Afghanistan, I wonder how much tension, sexual and otherwise we'll be seeing between Jane and Martinez.
Maura was the one with all of the family drama. Just when I thought her situation couldn't get any more difficult, I was proven wrong. 
Her long lost mother who called her a liar, then ignored her until her other child needed a vital organ and was back making things complicated once again... this time with the help of the Feds.
I loved how Jane called Maura out on her lies. She might not break out in hives like her eldest daughter but she isn't a good liar either.
Did she really think anyone would believe she has two accountants in suits who show up at her house 11 p.m. to discuss her finances? They're so scary she asked Cailin to go upstairs and lock her door and decided to move back to London the next day. Those accountants must have showed her some very frightening numbers.
That Jane called Agent Dean for answers showed how serious she thought this was and how her friendship with Maura trumped an extremely awkward conversation with her ex.
The surprise of the episode was finding out that Dr. Maura Isles picks locks. That should be a lesson for parents. Trying to keep children away from TV is a losing battle. One way or another, they will find a way. In Maura's case, it added a skill that could lead to felony charges someday.
What was no surprise was Paddy's response to Hope and Maura's request that he plead guilty to make their troubles go away.
I'd kill for either of you but I will never plead guilty. | permalink
Killing for Paddy Doyle would be easier than a lifetime spent in prison, even if it meant protecting them.
Paddy's trial hasn't even started and already the Feds are following Maura. How far will this investigation go and how much trouble will it cause Dr. Isles? There's no telling but thankfully we know the Rizzolis will be by her side, even when her biological family is not.
C. Orlando is a TV Fanatic Staff Writer. Follow her on Twitter.