According to serial killer Ross Perik's interpretation of psychiatrist Carl Jung's theory, everyone has a shadow self that they hide from the world. Tonight's Rookie Blue was about what happens when you stop hiding.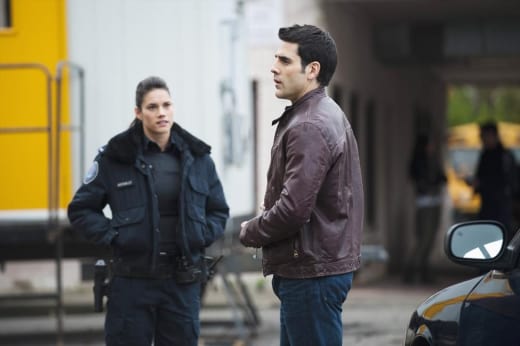 Lots of "Skeletons" were pulled out of the closet to see the light of day, but Gail's had the most immediate consequences.
Gail stepped up in a big way. For all of her faults, no one can say a lack of bravery is one of them. She didn't hesitate to go toe to toe and face the man who murdered Jerry and held her captive in order to save a missing girl.
This officer ability to exude sarcasm even while under duress - as seen in this Rookie Blue quote - is one of the reasons why I'll always love her.
Perik: You're taller than I remember.
Gail: Well I guess it's hard to gauge a person's height when they're tied to a table. | permalink
But Perik wanted some deep, dark secret and Gail was willing to share if it meant saving Grace. The shoplifting story was child's play compared to the horror I'm sure she experienced when she accidentally killed the kitten. But it was her confession about cheating on Nick that was the game changer.
When she walked back into the observation room, all Nick needed was one look at her face to know that that story had been true. They say the truth will set you free and I suppose these two are free of one another - but the hollowed out look on their faces was difficult to watch.
Their conversation in the truck was heartbreakingly honest. Nick claimed that when he decided not to come home while undercover, it wasn't because he didn't want to see Gail. But Gail knew what it really meant... that he wanted to be with Andy more.
And finally he admitted it. He has a crush on Andy and he thought it would go away. But it hasn't. 
While all of this was unfolding, Steve Peck, Gail's brother (and wasn't it strange that they didn't share a single scene together) babysat Traci. It didn't take her long to figure out he was distracting her with busy work and when she called him on it I was grateful he was so honest.
If Traci had been on the floor during the investigation, her friends and colleagues would have been worried about her and it would have taken their focus off of the job.  When Traci opened up to Steve about how difficult it's been without Jerry, I couldn't stop the tears.
 I'm trying so hard to keep going but sometimes, sometimes all I can think about is how much I miss him. | permalink
Traci came to work every day with a smile on her face and a great attitude but inside she's still in pain. Unfortunately, only time will help her heal.
The resurgence of a Ross Perik copy cat churned up memories for everyone. Sam was quick to request Andy as his partner and although the reason he gave for doing so was plausible…
 I chose you so we wouldn't have to talk about it. We were partnered that day which means I don't have to explain anything. | permalink
We all know how much Sam loves to talk (and yes, I'm being sarcastic) but I believe he didn't think about choosing Andy at all. It was instinct. A gut call he made when under duress. And Marlo noticed. 
The bigger problem I had was how Sam treated Andy. I know he was upset. Jerry was his best friend. But it just hearkened back to how he behaved toward her after Jerry died and thankfully Andy called him on it. 
You don't want to talk, we don't have to. Stop treating me like your personal punching bag. Please. | permalink
Other moments of interest included:
Chloe and Marlo being paired together. That's a partnership I never saw working but surprisingly enjoyed. 
Luke returned and it was great to have him back. I especially liked the way he believed in and backed up Gail.
Dov was reeling over Chris leaving without a goodbye. I know Chris didn't want a big scene but I think he owed his best friend a proper farewell.
Shaw filed for divorce from Zoe. This has been a long time coming but it still hurt. Hopefully Oliver can move forward and find some happiness.
So now that Nick's a free man will he pursue Andy? Will Luke and Gail bond over her ordeal? And is there any hope for Sam and Andy? Rookie Blue fans, tell me what you think.
C. Orlando is a TV Fanatic Staff Writer. Follow her on Twitter.