If there's one core theme that Suits seems to hinge on, you can bet it involves all the "Unfinished Business" of our favorite associates. But what do you do when all your business is really the result of irreversible decisions you made in the past?
That was essentially the question this cast of characters was forced to deal with this week, with some outcomes better than others.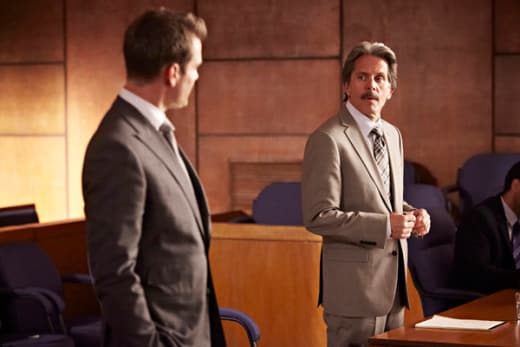 I've already said I feel like Harvey is trying to un-ring a bell that has already rang. Yet that suspicion was only confirmed with the addition of the fabulous Stephen Huntley. The worst thing a fixer can find himself competing with is another fixer - and Harvey certainly met his match tonight. 
It's funny how a little bit of time with Darby out of the office allowed our core cast to regroup to some extent. Yet the second the British Harvey drops in, things start to go to pieces again in their own special ways. Clearly Huntley has a special interest in protecting Ava. One wonders if this is dirty laundry that Darby and company are desperate to hide in their closet... or if something more is at play here. Could Harvey's suspicions have be right?
Even if they were, where would he go? He only now told Mike that he'd made the deal to take over the firm and take Jessica out. Not only that, but he can't go to Jessica and flat-out tell her that he has made this deal. They just got back in the same library, with a longer way to go before they get back on the same page. That'll be hard to do with Huntley in the picture and with Harvey keeping that secret. 
Then again, it's completely his fault.
The same can be said of the insufferable return of catty Katrina. It was just like her to try and weasel her way in with Louis, feeding on his evident weaknesses to become Mike's replacement. She, too, made an irreversible move with that childish computer cartoon of Mike. She may have made an ally our of Louis, but she certainly cemented her status as an outcast at the firm. At least that's what I think she deserves.
This, again, is another order of business which Harvey left unfinished. I have to admit, I almost forgot Katrina was even still at the firm. She was a total liability to Harvey in Suits Season 2 when Harvey had cover Mike's mistake by making a deal with her. One only wonders the purpose of having her return at this stage of this game, and as Louis' associate, no less. This could get very complicated very quickly for all involved.
But if there's really one person I am actually worried about, it's poor Louis. He's been run through the ringer and back. After all that bonding he tried to do with Mike in "I Want You To Want Me," and to have him almost drafted on to Team Litt, it was evident from the minute he refused to refer to Mike as anything other than "the associate to your right" that he was really hurt. 
A couple redeeming moments of this episode, which allowed us to veer temporarily away from the intense drama, trended towards the mischievous and romantic. 
Let's start with Stephen and Donna. Someone who can match a lady like our Donna is already a front-runner. I think she should totally go for it. Then again, I could almost hear the collective squeal of Harvey and Donna shippers everywhere when Harvey seemingly expressed some jealousy in the form of an inquest about Huntley in which he learned Donna knew more about Huntley's hotel reservation than she should have.
To be honest, Donna should have gotten in that car and driven away with prince charming to see Macbeth with Daniel Day Lewis. If only this were real...
The Donna/Stephen dynamic came in a close second to that moment between Mike and Rachel in Rachel's office where he got on one knee and asked her to formally be his girlfriend. Clearly the time for such an offer had come and gone - -Season 2 finale, anyone? - but the look on his face and the way he delivered that line absolutely melted my heart. It's in those little moments that you can see Mike really being in love with Rachel in the sweetest way and I adore it.
So much from this episode to digest! What was your favorite moment of this latest installment?
C. Charles is a TV Fanatic Staff Writer. Follow her on Twitter.