Even though Steve Peck was the one to refer to himself as Captain of the Universe, there were others who could have easily carried the title in "You Are Here."
As a matter of fact, Steve waffled between cute and annoying as his disappointment over Traci's rejection had him trying to take over her first solo case. I was relieved that Traci's gained enough confidence not to let him do it. She might still be a rookie detective, but she's learned a lot over the last year.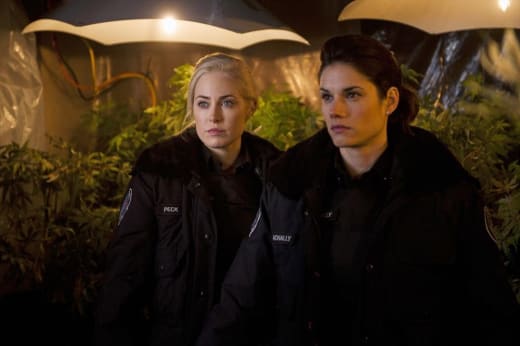 I'm still not entirely sure if Traci and Steve are the right fit, but I wouldn't mind seeing them give it a try.
The hero of Traci's case was Chloe, who started the hour feeling completely undervalued as the booking fairy. How perfect that she was the one to help bring Chuck down. I'd guessed he was the mastermind behind the Grow-Op early on. His I'm just a dumb pot-head routine simply felt too overplayed to be real.
Andy's hesitance to tell Gail also felt overplayed. I just wanted to scream at Andy most of the night. She had so many chances to tell Gail the truth about her and Nick that I was frustrated that she chose to blurt it out that she'd slept with him while Gail was high on pain medicine. 
As harsh as it sounded, I kind of enjoyed it when Gail told Andy off in this Rookie Blue quote…
You are the bad guy. You, Ms Perfect never hurt a fly McNally are the bad guy. And look at it, it's just killing you. | permalink
Telling Gail was never going to go well but the only way Andy could have made more of a mess of it would have been to NOT tell her at all and let her walk in on them kissing. Can Gail and Andy salvage their friendship after this debacle?
In the end, Andy told Nick he was worth it; of course, she has no idea what just occurred at Oliver's cabin.
Oliver Shaw was the true hero of the night. As he pressed Sam to help him figure out his relationship with girlfriend Celery, he got Sam Swarek to be honest with himself. How often does that happen?
Sam: I see you two together and I know that she's right for you.
Oliver: Like you and McNally?
Sam: Exactly. | permalink
I wanted to hug Oliver. Before you knew it he had Sam fantasizing about kids and walks in the park. No wonder Sam went at Andy so hard last week about being in the park with Nick. As much as Sam might deny it, that had to make him jealous. 
Now that Sam's made this revelation, the question becomes: What will he do about it? I also loved how Ollie pointed out that this situation is unfair to Marlo, that the person who's your second choice deep down always knows it. 
Finally, there was Chris and Dov's trek through the woods. Yes, Dov's complaints were a bit tiresome but that's Dov. I honestly barely noticed until Chris blew up. I loved their fight because of how honest they were with one another.
Chris: So I should be selfish like you.
Dov: Not selfish just not spineless. It's OK to do things that make you happy. | permalink
Dov's right. Chris has a tendency to want to do the right thing to the point of making himself miserable. 
And although it's nice to have Chris back, I did wonder if that meant he'd left Denise and Christian for good. Ditching Denise was certainly warranted, but Chris is the only Dad poor Christian knows. Despite what the DNA might say, walking away from the child isn't the right thing to do. 
Now that everyone at 15 Division has figured out where they are, do you think they can get where they need to be? 
C. Orlando is a TV Fanatic Staff Writer. Follow her on Twitter.