My birthday wish for "Game of Phones" was an episode that delivered on its promises, along with a compelling storyline.
Better luck next year, Royal Pains?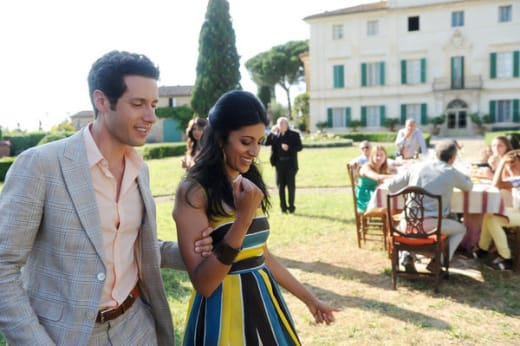 I guess that's not much different than the huge bag of nothing that Evan received for his big day. Then again, it was very much his own fault. Evan's grandiose expectations cut him off at the knees before he even got up to walk. 
Shouldn't someone have caught on to his constant repetition of Divya's words about going to Tuscany in the first place? I don't think it could have been any more obvious that he was trying to hint at something.
If I had to sum up what happened in this episode, it's that everyone, to some extent, got really caught up in their own stuff, from Evan's self-obsession to Hank's drug problem to Paige's jealousy and even Divya's pregnancy... they all had very self-interested moments.
Paige's was probably the most ridiculous, only to be overshadowed by Evan's Tuscan-inspired expectations. The fact she thinks, though hasn't really admitted, that she believes there's something going on between Evan and Divya is absolutely absurd. I have never seen a couple's honeymoon period end so abruptly. Please get this makeup over with quickly. Paige married someone who infamously puts his foot in his mouth; she should automatically consider that any time there's an issue between them. It would save them a lot of misunderstanding and us as the audience a lot of wasted story lines.
Divya's story this week was one I really enjoyed. And by enjoyed, I mean all of the parts that did not include Evan. I thought the renewed relationship between Divya and her mother and their discussion about motherhood was really nice. I was kind of surprised that her mom dropped a pending engagement in Divya's lap, but it went okay with the theme of big secrets going on there and evened things out nicely in that way.
Once again, I harp on the fact that the whole Hank-the-pain-killer-addict thing didn't pan out in either a confession or a test proving such is the case, as the promo somewhat mistakenly promised. No, not all promos are supposed to spill the beans or promise certain things will come to pass, but when will we finally address and deal with Hank's clear problem. 
Perhaps next week? What did you think of this installment?
C. Charles is a TV Fanatic Staff Writer. Follow her on Twitter.