I would like to extend an "Open Invitation" to the writers of Royal Pains to go back to the drawing board as they prepare for and film the next season of this flailing summer favorite.
Yes, this episode had some redeeming features, but it's a hard sell for me to believe they can turn this runaway train around with only two episodes left in Royal Pains Season 5.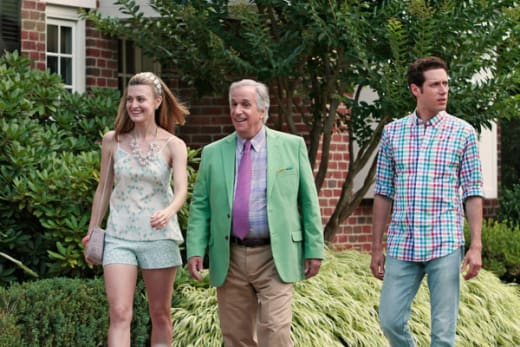 If there's one aspect of the hour that I still am not completely sure I understood, or am understanding, it's Hank's need to continue treating Don. Why does he feel responsible for him, beyond the fact he promised his spoiled and rather immature daughter that he wouldn't allow anything bad to happen to him?
Neither Hank nor Mollie ever left his side for more time than was absolutely necessary. To be quite honest, I don't know many doctors who would do such a thing, real or fictional. She should have been grateful he didn't just leave her sit there to be bombarded with medical speak she didn't understand with respect to her father's treatment.
I'm not completely heartless as to not comprehend her desire to be at her father's side, nor that it's very scary and sometime people act out when they're afraid. But let's be real, her attitude totally stinks. I would not have tolerated beyond my first encounter with her. Seriously.
Hank's attitude towards his addiction was lingering dangerously close to a similar level of immaturity. Then again, when you're body is in pain and, even as a trained medical professional, you're misinterpreting the signs, I almost understand where he was coming from and am ready to grant his behavior reprieve.
One highlight of this installment had to be Divya and Jeremiah's initial encounter where they discussed the merits of a breakfast room. If I wasn't so convinced that the feelings Jeremiah has for Divya were one-sided, I would have loved to see these two really hit it off.
It seems strange to me that all the hoops Jeremiah has jumped through, right down to inviting her to move in, didn't raise any red flags that would have caused her to question Jeremiah's intentions. Though I suppose pregnancy and all the internal and external stresses of that have likely occupied spaces her in mind she didn't even know existed, effectively silencing any questioning of that nature.
Was anyone else feeling especially hurt for Jeremiah when Divya approached him about moving out and delaying her breathing exercise classes? I mean, I think I would be a little off-put to suddenly learn my roommate was head-over-heels for me, too. But did she have to rush to judgment on the thing so quickly?
Maybe I am just shipping something that should not and cannot exist. But seriously, I've grown really attached to our resident awkward physician. I think he deserves to be happy.
So do Evan and Paige for that matter. Given his behavior, I wasn't so sure Eddie R. felt the same. What on earth would possess him to fabricate or intimate feelings between Divya and Evan that may or may not have ever existed? I am still in the camp that says Evan had a baby crush on Divya when the series started. Yet when you have the parties involved are refuting your claims in stereo, one would assume it would behoove the accuser to rethink their position. For Eddie R., that just wasn't so.
I did appreciate his observation, once all was said and done, that it was never Divya that was the problem. Now it's just a matter of figuring out the source of Paige and Evan's marital troubles, and we might finally get back on track to marital bliss for our resident love birds.
By the way, did anyone else wonder what was happening on Evan's campaign? Yeah, about that....
Two episodes left, Hamptonites. Do you think this show can be rehabilitated?
C. Charles is a TV Fanatic Staff Writer. Follow her on Twitter.