if you thought having Darby out of the way was the key to turning back the clock on all the changes that took place throughout Suits Season 3, then you don't know this show!
From Louis' failed negotiation attempts to Mike, Jessica and Harvey's attempts to put the ball back in their court, it seems everyone acted in "Bad Faith" at some point during this installment.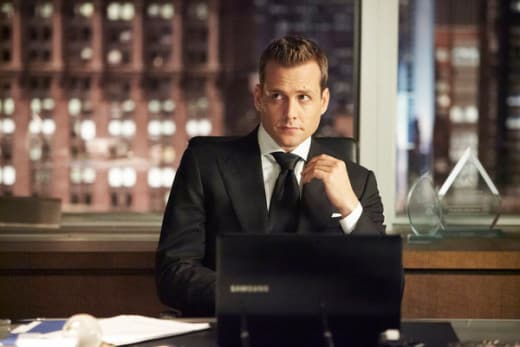 You almost thought from the cheery beginning - which found Rachel and Mike playful at her apartment and Harvey picking up Donna for breakfast and a shopping spree for a new handbag or two - that things were going to not only go back to being what they were, but that relationships would be stronger and moving in new directions.
By the end of the hour, that dream had been shattered, and the dissolving Pearson, Darby, Specter was slapped with a malpractice lawsuit by Ava Hessington.
Talk about a complete turn of the tides....
I think we can all agree that we expected at least some conflict regarding the dissolution. I had full confidence in Jessica's choice to put Louis in the drivers seat for these negotiations, only to have Harvey swoop in and capitalize on Louis' advances. What I wasn't expecting was for him to completely drop the ball at one mention of Nigel's prized cat, to which Louis is clearly attached to send the whole thing into a death spiral.
I struggle to remember another instance during which I literally thought Harvey might come across that desk and deck Louis over the outcome of a case or negotiation, but I was fairly certain he was on the brink of doing so. This negotiation was life or death for the the firm in a lot of ways, though, and I was really disappointed that for such a savvy attorney that something as frivolous as a cat would cause Louis to veer off course.
Then again, Harvey wasn't necessarily above veering off course when it came to the negotiations either. His interactions with Scottie demonstrated a similar lack of his normal prowess. If anything, Harvey's tendency to become very stupid, very quickly when it comes to Scottie wasn't too far off from Louis' indiscretions. It seem like anytime Scottie comes around Harvey has to have some inner dialogue or all out disagreement/discussion with her over whether or not he should trust her - 9 times out of 10 she manages to screw him somehow.
This time around, Harvey played heavy hitter and, capitalizing on the groundwork Louis laid for him (which I think Jessica intended all along) managed to simply compensate for potentially losses by doubling down on a client they already had a relationship with. I was pretty impressed by the teamwork. However, I suppose if Harvey had not gotten real with Louis for a second and let him know what an assets he is, which we all know he's been dying to hear for a while, we might not have been able to see things seemingly work out for the moment.
In the next moment, everyone was getting slapped with a major malpractice lawsuit by the same client they have spent a majority of the season trying to vindicate. The most interesting thing about it is that the whole time Pearson, Darby and eventually Specter had the case, they were using aspects of it to fight their own internal power struggles, which in my mind would definitely constitute malpractice.
It's these kind of twists that make me love this show even more each week. That twist forces everyone, even on their bad terms, to perhaps regroup and come together a bit to fight this, lest it ruin all of them at once. I am really looking forward to seeing how that comes together.
The same goes for the Stanford bombshell that Rachel dropped at the episode's conclusion. We all knew it was a strong possibility. Though when she was accepted to Columbia I thought maybe we'd dodged the Stanford bullet. Clearly that was my mistake. To be honest, I thought she was going to tell Mike she wanted to break up or something. Mike almost deserved it over the crap he pulled with her dad. I was dreading that more than the unexpected Stanford news. In a way I'm relieved as a result. I guess we'll have to see where the chips fall.
There's a lot in store for the Suits Season 3 summer finale. Have any predictions for what might befall our favorite legal eagles?
C. Charles is a TV Fanatic Staff Writer. Follow her on Twitter.