The Carrie Diaries Season 2 Set Scoop: Life in The Big City
Jim Halterman at .
October 25 can't come soon enough for The Carrie Diaries and the fans who fell in love with a young Carrie Bradshaw and her group of friends in the mid-1980s this past spring on The CW.
The Sex and the City prequel will be back soon enough, but the good news is that the cast is busy at work in New York City shooting the second season.
I dropped by the set last week to check in with stars AnnaSophia Robb (Carrie), Brendan Dooling (Walt) and Freema Agyeman (Larissa) to see what I could find out about the new season. Scroll down now for some fun, exclusive scoop...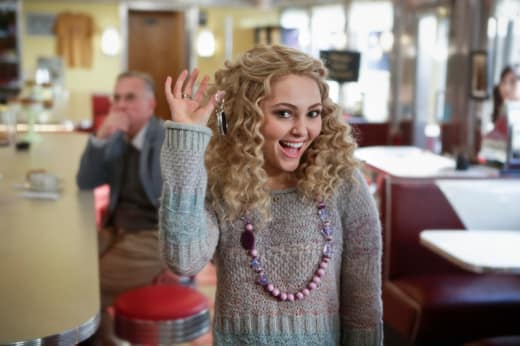 Sexy Summer: According to Robb, we'll start the new season in the big city with Carrie and Walt still enjoying their summer. As Robb describes it, "we start my summer in the city, hot and sexy." In fact, as Dooling revealed, we'll see right off the bat in the new season that the twosome have been indulging in the busy nightlife of the Big Apple. "Them being in the city for the summer, they've raged," he said. "I think even in the first episode Carrie is waking up with a hangover. It's how we first see her."
Samantha Jones: We know that Lindsey Gort is stepping into these iconic shoes, but will she and Carrie be BFFs from the start? "Their friendship definitely develops. It's not an immediate bond right away," said Robb. "I think the way Samantha is introduced is sort of apropo and a little bit shocking." Dooling added that even though another SATC name was mentioned in the season finale, we won't be meeting him quite yet. "We did do the name drop [but] we have not heard about Stanford yet," he said. "Because I think Samantha needs her due and then Stanford will come down the line."
Where is Sebastian? "Sebastian is always going to be around," Robb said with a smile. " They're never going to let go of Austin Butler, are you kidding? So Sebastian is around but when we left off they're not together. They're not together." We also know that Molly Sims is going to appear as an older love interest for Sebastian. Robb, however, had to keep mum about how Carrie reacts to this but it sounds like they will definitely cross paths: "[Carrie's] involved with Sebastian so their circles run pretty close together." We'll also see Mouse and Carrie's Dad in the big city, too.
Love for Larissa: Agyeman teased that we'll see more of Larissa's life in terms of who she's dating. "We never really saw in much detail any of Larissa's love interests, which has changed in this season," she revealed, adding things might not always be bright and cheery for her. "The darkness might then come because I think [Larissa's] the eternal party girl. She is the woman in the fashion and the art scene. She's all of those things but no human being obviously, is always one thing all the time."
Eyes Wide Open: Robb also said we'll see less of the 'wide-eyed' Carrie in year two. "I think season one was big new experiences for Carrie figuring it all out, being sort of thrown into this whole new environment," the star told me between shooting scenes. "Now Carrie is more on her feet. She at least pretends like she knows what's going on, and she's more comfortable in the city, and she's becoming a New Yorker."
Walt's Journey: Walt may have finally come out but he's still processing but we'll see things are different for him when he returns to high school "It's not public knowledge," Dooling said, reminding that only his circle knows he's gay. "He doesn't want it to be public knowledge so it's just a matter of staying under the radar." And possible love interest Bennet (Jake Robinson) is still around... so maybe Walt will find love?
Larissa + Walt = BFFs? Watch for Larissa and Walt to interact more in the new season. Agyeman explained: "With [Walt's] blossoming relationship with Bennet and also his awakening and kind of just wanting to explore the new world and the new side of him as much as Carrie does, he's very much around in their little posse, which is great." Walt, in turn, is somewhat awestruck by the sassy Brit. "He loves everything that she does with Interview," Dooling explained, "so he just like mainly wants to just give her respect…it's like almost teacher/student, I think."
Let's Talk About Sex: With a more mature Carrie, does that mean sex is going to happen for her this year? "There's still a lot of sex talk, and we'll see what happens with Carrie," explained Robb, adding with a grin. "She's getting older."
The Carrie Diaries starts Season 2 in its new Friday timeslot on October 25t on the CW.
Jim Halterman is the West Coast Editor of TV Fanatic and the owner of JimHalterman.com. Follow him on Twitter.