American Horror Story Review: Good or Evil Witches?

Carla Day at .
Witches may have powers, but they are not omnipotent or without troubles, as was clearly demonstrated in "Bitchcraft"
The third installment of the American Horror Story anthology takes place in New Orleans, the Salem of the South. Due to the witch trials, the real witches all fled south to safety. After the Civil War, the Supreme at the time purchased Miss Robichaux's Academy for Exceptional Young Ladies in New Orleans to teach and protect young witches.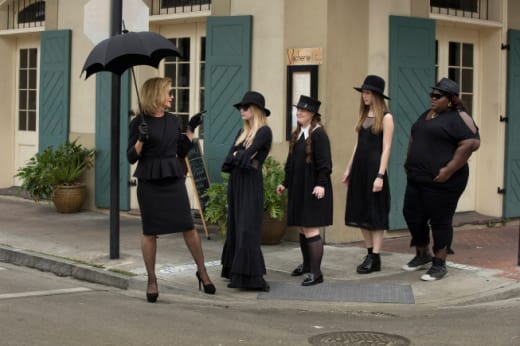 Witches are a dying breed and the school houses only a few girls who all have different powers. The premiere of American Horror Story: Coven set a dark, yet at times hopeful tone for the series. Some of the witches abuse their power, while others want to learn to co-exist in the human world. 
Madame LaLaurie in the 1800s and the current Supreme, Fiona, have much in common. They both have a deep-seated desire to remain young. At the end of the premiere, Madame LaLaurie was unburied and found alive. This presents an intriguing opportunity for the two witches. Will they bond? Or, will they be at each other's throats?
They both proved that they have no problem using humans for their own needs and even killing if it comes to that. Madame LaLaurie kept an attic of "playthings" and harvested human organs in the quest to remain young, while Fiona sucked the youth out of the geneticist that refused to help her.
This pair together will most likely destroy any sense of peace that witches have established in New Orleans. And, that means Cordelia's going to have quite a fight on her hands. If her goal is to protect her girls, it's going to be a challenge.
As over-the-top as Madam LaLaurie and Fiona are, the teens showed that they may have powers, but even more than that they are teenagers. When Zoe first arrived at the school, the other students played a practical joke on her to welcome her to the witch school. It was frightening joke, but it is a witch school after all.
Zoe has killer sex -- literally. The movie star, Madison, can move objects. Nan is clairvoyant. And, Queenie is a human voodoo doll. They have a wide range of abilities. I'm interested to see how each of their abilities manifests over the season for good and bad.
Madison may be a movie star, but she desperately wants a friend and she may have found that in Zoe. When they went to the frat party, their "normalness" was revealed. Zoe and Kyle had a love at first sight moment. He was simply mesmerized by her. She may have killed her boyfriend, but her heart wasn't damaged from that experience.
In contrast, Madison was roofied and gang raped. She wasn't protected by her abilities. This was a horrible scene to watch play out even though the actions were at times blacked out with pauses. Those interruptions made Madison's torture radiate through the screen and more intense to watch. It was painful.
In the aftermath of Madison's trauma, she proved that she wasn't a normal human and got revenge by using her powers to overturn the bus. Her target survived though, while Kyle died. It wasn't fair and Zoe wanted revenge of her own. She used her killer vagina to murder Madison's rapist.
It was heartbreaking to watch Madison continue to suffer from the experience by crying alone in the bathtub. And, how will Zoe handle taking yet another life and this time on purpose?Perhaps, the two witches will lean on each other and bond together in friendship.
Plus, Misty Day had the ability of resurrection. Is it possible that Kyle could still be alive? Or, that he could be resurrected? I hope so. I'm not ready to see the end of a Zoe and Kyle relationship. They had amazing chemistry and Nan did foresee "a strange and unexpected love" for her.
The premiere was a shocking introduction into this witch world. While it felt like nothing was held back, since it's American Horror Story my guess is that we haven't seen anything yet. This will be a complex story of witches with extremely different points of view and motivations. Will good or evil win? From the looks of it so far, those that appeared to be good have only used their powers for evil ... even if justified.
I'm hooked! Are you?
Carla Day is a staff writer for TV Fanatic. Follow her on Twitter and on Google+.