Beauty and the Beast Review: Remembered and Unforgiven

Carissa Pavlica at .
That relationship that you're remembering? We never lied to each other. I just can't... I can't handle it. I can't live with any more lies. It's too hard.
Oops. There was a bit of a problem with "Liar, Liar." It would appear that Cat doesn't remember her relationship with Vincent any better than he does at this point.
But that's just not true. Does everyone remember what happened last season to the contrary? Let's talk about that and more in this review.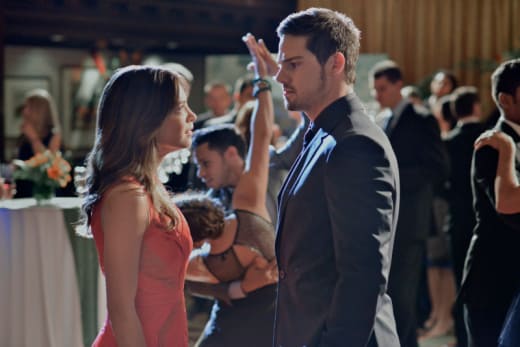 We learned a bit more about what Vincent does for Cat's father, and that his closest work was done for another "agent" who was killed by a beast who escaped the Muirfield facility when it was taken down. Then he was hell bent on revenge against his father. Vincent was sent to stop him. As we suspected, Vincent is more or less taking out his own kind, putting him on the same side as Cat and her pals.
Perhaps that's why Bob Reynolds wants Vincent on his team. He probably knows what the two of them have been able to accomplish together and, given time, might want to get them all involved tracking down these rogue beasts. It could happen. Now that Cat knows her dad wasn't her father, she won't be blindsided to learn that Bob Reynolds is.
Bless J.T.'s heart, he knows Cat better than she does herself. She thought she could easily push Vincent out of her life after what happened in "Kidnapped," but J.T. knew she wouldn't be able to, let alone want to. J.T. tried to help by giving Vincent some background on his relationship with Cat, but that blew up in his face when Vincent tried to use it against her.
This is where things kind of fell apart for me.
First of all, Cat used the word relationship more times than I could count, and while it was great to see Vincent being open and receptive to the idea of them pursuing their feelings for one another, they certainly aren't ready to call what they have now a relationship. Once again, Cat is pushing things a bit too hard, too fast.
The irony was that when they were in the field together, working a case like they used to do, Vincent saved her life - and it was that moment that sparked his memories. He lied about remembering something, but she caught on right away. No harm done, really. She was, after all, breaking into his house and using shoe tacks to deceive him, too. 
Cat's rationalization was that she was doing all of that because she cares for him, but it was more than that. She is still a cop and was still working a case. She cares for him, of course, but she was also working a case and trying to prove that Vincent wasn't the one responsible for the murder in that case. 
Vincent was still interested in and worried about Cat before he remember a thing about her. That should count for something, but in Cat's mind, it didn't. 
After she had the talk with Heather about lies destroying relationships, she took everything they talked about and applied it to her situation with Vincent. Her relationship with Vincent. And that's when she told him what he did remember wasn't real, because they never lied to each other. Perhaps she has forgotten a pretty red head named Alex. I remember her and I also remember fans everywhere calling foul for Vincent's behavior.
In "Seeing Red" Vincent lied to both Cat and Alex about his relationship with each of them. THAT was the first time he lied to Cat, and he kept up the lie longer than we liked. That was the tenth episode of Beauty and the Beast Season 1, so they weren't just finding their footing. It ended their relationship, if I recall correctly, in exactly the same spot as Cat closed the window tonight.
But, Cat forgave Vincent. She understood that he needed to revisit his past to be able to move forward with her because he had been gone for so long. Yet his memory has been wiped clean and she can't give him the benefit of the doubt now? Lying to somebody you don't know is much easier than someone you do.
I still think Cat is living under a delusion about what Vincent has been through in the months he's been gone. I hope when it comes out that it's really deep and dark and she gets a clear picture of what they stole from him. What her father stole from them both. Because her father stole her love from Vincent, and that's just for starters.
The time to close the window wasn't when he finally remembered; that was the time to open it up and forgive his indiscretions, including tossing her across the roof and lying about the memory. It was a time to build upon that progress - am I right?
Outside what drove me nuts, I really enjoyed Tess and Gabe as they interacted, and I wish J.T. had more time with them. I also hate to say it, but I'm not sorry to see Heather go. Fly safely, Heather. Buh bye!
What did you think about what went down tonight? Were you as surprised as I was that Cat forgot all about the glaring lie Vincent told her when he was in love with her and was unable to overlook the one he told while he didn't even remember her?
Carissa Pavlica is the managing editor and a staff writer and critic for TV Fanatic. She's a member of the Critic's Choice Association, enjoys mentoring writers, cats, and passionately discussing the nuances of television and film. Follow her on Twitter and email her here at TV Fanatic.