Instead of titling this episode "Ancient History," it should be properly renamed "Forgive Thy Wifem" being that the actual killer was the person I didn't expect at all.
The doting wife, wronged by her assassin husband.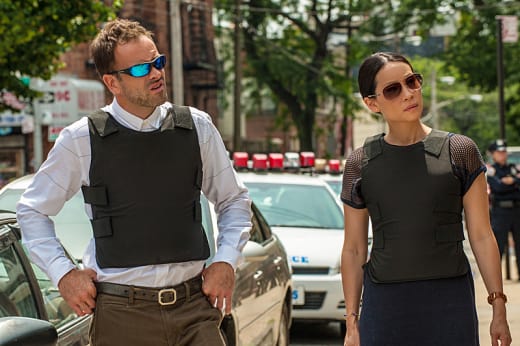 Before Sherlock and Joan uncovered the real killer, they were taken through a web of Russian Mobsters and a trail left by the killed assassin. And Joan made a shocking discovery about Sherlock.
First, we met a friend of Joan's! How exciting, right? Her name was Jen and she seemed a little sleazy. But who are we to judge a girl who had a one-night stand and then a year later decided that he was "the one?" Excuse me, she's not sleazy, she's a little crazy.
Anyway, Jen enlisted the help of Joan and her newly discovered investigative skills to track down this man she had an intense connection with a night a year ago. Joan decided to take this case on even though Sherlock disapproved.
Now that we know why Sherlock disapproved, I am thinking... did he not stop her initially because he thought she wouldn't get to the truth? Interesting thing to contemplate.
This all lead to Sherlock confessing he was the one who slept with Jen. Now the interesting part was how ended up in the situation with Jen. The answer was a bit of a shock: Sherlock used to follow Joan. In his words, they didn't have "this" and he didn't trust her, so he'd follow her.
It's crazy how one simple word "this" can make this critic one happy girl. He's right, it took them a long while (first half of Elementary Season 1) to start truly trusting one another. The fact that Sherlock used to follow her was a shock to not only Joan but to me as well. It explains more about Sherlock.
Elsewhere, the case took us through a slew of an interesting variety of people and multiple turns. One thing that Elementary has always done really well is it's given us random groups of people and found a way to connect them all. The usual outcome being a killer that we didn't expect. It has kept each episode unique.
I will admit, it's been a long while since Elementary has been able to surprise m. But tonight, I literally said, "what!?" out loud.
Who would have thought that the doting wife would have been the woman scorned?
She spoke of how she forgave Leo for being an assassin, but he couldn't forgive her for doing what was necessary to survive as a young girl. When he asked for a divorce, she went to great lengths to see that her husband would be killed. In her opinion, you have to do what is needed to survive.
It's a little morbid but if that means involving the Russian mafia, then, well, you go girl!
As a critic, I've always been in awe of how great of a show Elementary is but there's one major aspect to this show I've never discussed... Joan Watson's attire.
As a fangirl and a lover of fashion, let me just say that Joan has an amazing closet. Her clothes are fancy yet made for everyday wear. Her shoes are also fantastic, those cute brown boots she wears all of time - love them! I haven't disliked one outfit that Joan has worn. I will also admit that Sherlock looks adorable in his button up shirts that are buttoned all the way up. His sweaters and blazers. I just love it all.
Overall, this episode was enjoyable because of two things: I didn't expect the killer to be the wife and Sherlock slept with her friend twice. Joan almost got him at the end... almost.
If there's one that this hour proved, it is that a woman forgives you, but it's best that you forgive her later on as well.