The issue of the end of Homeland's second season may have been believability of character and story. The problem through two episodes of season three has been boredom.
Last week I stated that maybe the slow and steady approach could work for this show.  But without the high paced action and intense conspiracy, what are we left with?
One answer is "Uh...Oh...Ah..."  The second episode of season three was boring and in serious need of a pick-me-up.  Personally, I'm hoping the return of Damian Lewis is exactly the shot in the arm that will turn this thing around.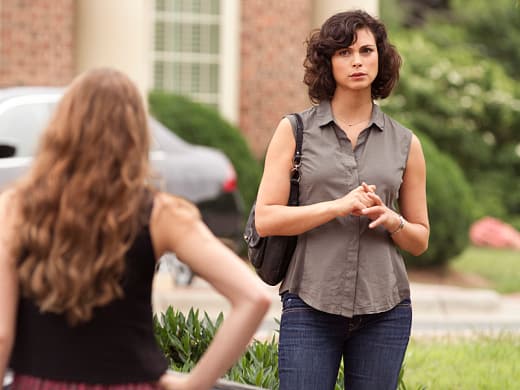 It's not just the lack of action in this hour. It's that these plots aren't interesting in and of themselves.  Carrie's health being called into question, Saul working through back channels to find the money that was used to fund attacks, and how the Brodys handle being ostracized are a far cry from the original story that hooked us all in season one.
I understand the first two.  Even if Saul bores me to tears and Carrie has become a tremendously annoying character, their plots could in fact go somewhere interesting as the season moves forward.  They aren't there yet, but I'm holding out hope.
The Brodys, on the other hand, are a group of characters falling victim to a bigger issue that faces many a television show.  The actors are there, the characters have been developed, so the writers are forced to use them and tell stories that don't deserve to be told.
There isn't an example that comes to mind other than The Wire of a show that was able to dump its character - or severely sideline - from season to season in order to tell the story that needed to be told.  When someone, or a group of someones, wasn't necessary to the story they were gone.
That's what should have happened to the Brodys the moment that Nick wasn't in the picture.
I find it very hard to believe that they are going to come up with a compelling story for Jessica, Dana, and Chris.  It's all just about how they're dealing with what Nick did, and Nick hasn't even been in the first two hours of this season.  Save for one scene this week, I could care less about what happens to these characters.
That scene, however, was very nice.  Dana, who has been an issue for so many throughout the seasons, was fantastic in telling her mom what the deal was.  Screaming at her that she did in fact want to kill herself back in that bath tub took guts, and she won back a tiny bit of favor in that moment.
The highlight of "Uh...Oh...Ah..." was Rupert Friend as Quinn.  Whether it was the difficulty in dealing with the dead kid, or the fact that he was coming to Carrie's defense, Quinn was who I was rooting for throughout the hour.
It wasn't Saul and his terrible treatment of Carrie and the new young analyst.  And it wasn't Carrie, who with every scream and complaint drove me further and further away.
When Carrie was successful and good at her job in season one, she was still right on that edge of being annoying.  Now that she has had trouble, my goodness is she tough to take.  
Hopefully she can get past this soon and get back to being someone we can all root for to stop some bad guys.  If not, this could be a long season.
What did you all think of the episode?  What did you like?  What didn't you like?  Who are YOU rooting for?  Are you happy with the Brodys?  And when is Nicholas coming back?
Dan Forcella is a TV Fanatic Staff Writer. Follow him on Twitter.