Parenthood Review: Marriage, a Minivan and the Mayoral Debate

Carissa Pavlica at .
This week on Parenthood Season 5 Episode 6, things didn't seem as dire or overly engaged as they have been since the start of the fall, and yet I was still unable to escape the hour without shedding a tear. 
It was nice to have a slower pace and it felt as though some decisions were made so that in the future, some of the stressors characters have been feeling will be released.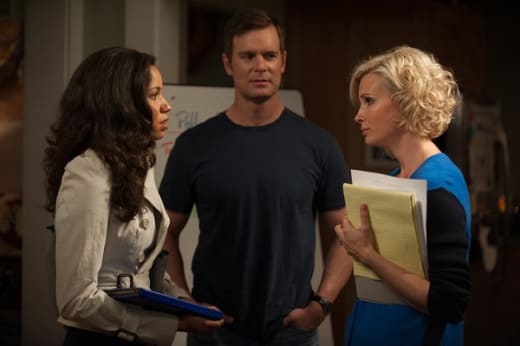 The entire Braverman family were canvassing neighborhoods on behalf of Kristina's Mayoral campaign, and when Joel had to work, Julia enlisted the kids to go along with her on her route. She happened upon Ed's house and since their kids are friends, they stayed a while, even having dinner.
Julia left as soon as Ed's wife got home, and didn't mention the stop at Ed's house when she got home to Joel, who had prepared a family meal. This signifies there is likely still trouble on the horizon for the couple who has been through so much.
First it was taking their problems outside the marriage, and now it appears to be overcompensation and keeping secrets. Be prepared for a meltdown at some point.
Zeek was listening when Julia told him he needed to understand where Camille was coming from with regard to their future, but he's so set in his ways, and Camille knew it as soon as they started looking at condos. Things that excited her did nothing for Zeek, and his way of dealing with it was to build Camille her own fire pit like one they had at a condo. Camille, on the other hand, decided to visit Italy with her art class for a month.
On her own.
Kristina learned she had less than a snowball's chance in hell of winning the election unless something drastic occurred, but she flat out refused to use her personal situation with Max to help her drive home how important her education platform was to her. 
She was in the middle of letting people walk all over her during the Mayoral debate when a woman new to Berkeley asked about the public schools and assistance for special needs kids. Finally, Kristina sprung into action. She answered with strength and eloquence, as well as humanity, as she walked down onto the floor to give her number to the new resident and exchange a hug of support. She won the debate, to which Max exclaimed she was a statistical anomaly. 
Even though Sarah pledged to Amber that she would support her no matter what her personal feelings were on the issue of her marriage to Ryan, Amber wouldn't have it. She and Ryan decided to elope, but even Drew didn't want to be a part of a ceremony to which their mother wasn't invited. Sarah was sharing her frustrations with Camille and finally understood the pain she caused her own parents when she married Seth.
Because Zeek and Camille spoke up and voiced their opinion, Sarah cut them out of her life for years. Camille said if she could take it all back, she wouldn't have said a word so that she didn't give up that time with her daughter. A scene with Lauren Graham and Mae Whitman doing their best mother/daughter impression was one of forgiveness and acceptance and I sprung a leak. The funny thing is, I bet they cry easily around each other just as the friends they have become in filming Parenthood. They're that good.
The comic relief of the night came in the form of Crosby and Jasmine, when Jasmine wanted to take the plunge and get a minivan. Crosby was horrified, as are we all, at the thought of making that change. These Parenthood quotes were typical Crosby, and perfectly explained how he saw the situation:
Crosby: You say minivan, I hear vagina. That's what I hear.
Jasmine: OK. Well, we're goin' vagina shoppin' tomorrow. So, sorry about that.
You think that the two cars we're going to own are a VW Bug and a minivan? And what will I drive to work? You know I work with musicians at a recording studio and I'm going to show up in either a little tiny vagina or a humongous vagina?

Crosby
The best part was when he got drunk with Ashes of Rome and they all needed a ride home, not only did Jasmine come pick them up in their hot new wheels in which they all fit, but they got to watch kiddie TV, as well! Oliver telling Crosby he had the best wife ever wasn't too bad of a perk for a guy who had put up the world's biggest fight over getting that minivan!
It was a good, solid episode. There wasn't a lot of edge-of-your-seat drama, but it was so nice to spend time with the Braverman family. It's episodes like these that make you feel as if you're home.
Carissa Pavlica is the managing editor and a staff writer and critic for TV Fanatic. She's a member of the Critic's Choice Association, enjoys mentoring writers, cats, and passionately discussing the nuances of television and film. Follow her on Twitter and email her here at TV Fanatic.