The changes keep on coming on White Collar.
And everyone found themselves "Out Of the Frying Pan" and into the proverbial fire this week.
From a new handler attempting to get a feel for his CI to delivering a new life into the world, everyone certainly had their hands full in this latest installment.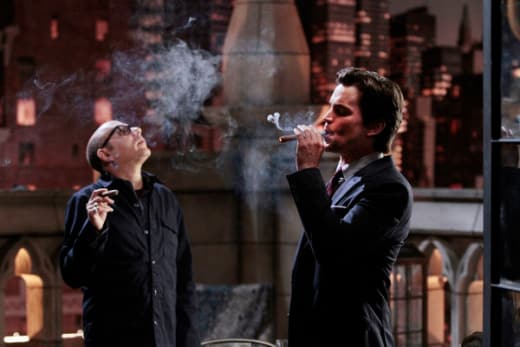 Warren Kole has finally joined the cast as David Seigel, Neal's new handler.
Formerly of USA Network's Common Law, which was canceled after only one season, Kole has managed to make a great comeback with this character. It's clear he's going to have to up his game in order to compete with Caffrey, having been party to too many near-miss situations. Peter is right to caution Seigel, but it may be a while before he truly gets the hint. Either way, I'm really liking to dynamic he's going to create inside the department.
Which brings me to the sad, alarming and yet exciting prospect of the kinds of changes taking place in the White Collar division. I'm particularly alarmed at the separation between Peter and Neal that's allowing him to fall back into old habits in the worst way. He may have paid back the piper, but he's also sold his first born in the process: the case that got him out of prison for the interim in the first place. With Sagan out and about, as I predicted after the White Collar Season 5 premiere, will end up being Neal's downfall in probably the worst way.
Surprisingly enough, though, Neal and Mozzie may have acquired an unlikely ally this evening in Diana. Not only did Neal show her support, however limited, in her desire to stay active in the field, Mozzie literally delivered her baby, and even got a little shout-out in the little boy's naming. That's perhaps my favorite part of this week's episode. I knew he wouldn't leave her, even though he was very close to being had.
Another interesting element was the introduction of Mozzie's true identity, Teddy Winters. I know there must be some reference hiding in there somewhere! I agree that he looks like a Theodore, but how heartbreaking was it to learn that he kept the alias in the event his parents came looking? I almost couldn't handle that. He's such a gentle, caring guy and to hear that  was too much. It definitely tested Neal's loyalty in that he had to find a way to get Mozzie out of Seigel's impending grip.
It also served as proof of how dangerous Neal can be when out from under Peter's watchful eye.
Additional case in point: the destroyed Victory Bond. That victory bond was the piece of paper that really started it all for Neal. I feel like there's a deeper implication of Neal burning that bond, and probably by next episode I will figure out what that is, but my initial feeling was that it was almost like he was getting rid of that guy somehow, like cutting his ties to Peter. Of course, that's not entirely true, and maybe it could be seen as Neal actually saying goodbye to the person he used to be. It will be interesting to find out.
Was I the only one holding their breath when Neal did his new dance to avoid the evidence lockup camera? I don't know if it was because I was more afraid of him getting caught or afraid of what he was about to do. Longest two minutes of my life!
What did you think of White Collar's latest installment?
C. Charles is a TV Fanatic Staff Writer. Follow her on Twitter.