White Collar Review: Unanswered Questions
Chandel Charles at . Updated at .
Talk about an understatement. That's the best way to describe White Collar Season 5 Episode 3.
With the unexpected and untimely death of Agent Siegel, it may not be long before Neal and Peter are sharing the front seats of a towne car.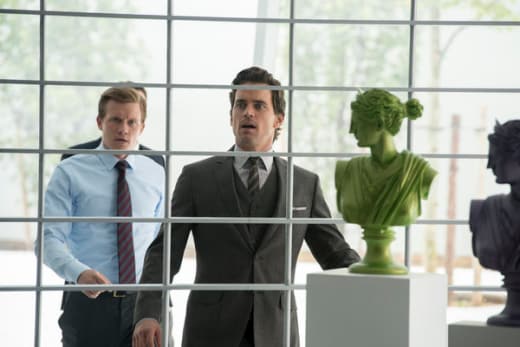 Two things happened with Siegel's death:
Neal lost the only track that would link him back to the freshly-released Hagen, that no doubt probing question that was clearly on the edge of Siegel's lips that last time he met with Neal in his office.
It's probably clear that I'm more interested in the question than anything. It was a big one, and now it has unfortunately died along with poor Siegel. As much drama as there was - both in the show and in the Collar community with his addition - I started to get attached and used to the idea that he might be around for a while.
In a way he will be... in the form of a murder investigation. But will that mean that Neal will find himself more willing to come clean? Or more insistent on keeping what he knows to himself? What are the chances that Hagen might have something to do with it? Is he setting Neal up to be the killer?
So many unanswered questions, and so much time to (hopefully) get some of them answered.
In other news, we now know just how much separation anxiety Peter was suffering from in Neal's absence. It even interfered with his ability to watch the Yankees, which is saying a heck of a lot! I almost died when Neal gave him the cold shoulder in order for him to get in to that book.
That's the other unanswered question I have: what's in the book?! Clearly whatever it is, it's valuable to Hagen, but could it be what's driving the rest of the plot on White Collar Season 5? Could we have another U-boat situation on our hands?
C. Charles is a TV Fanatic Staff Writer. Follow her on Twitter.