American Horror Story Review: Wars Are Coming

Carla Day at . Updated at .
Are there any limits to Zoe's powers?
Almost overnight she's gone from a witch with a killer vagina to the strongest and most powerful, perhaps in the Academy. Despite her new abilities, she hasn't been able to get what she wants most: Kyle. He continues to struggle in his new Frankenstein form.
While life-altered and life-ending decisions were made in American Horror Story Season 3 Episode 7, the hour felt a bit transitional. The decisions and events didn't have any real consequences in "The Dead." Instead, the ramifications were left to come to a head later.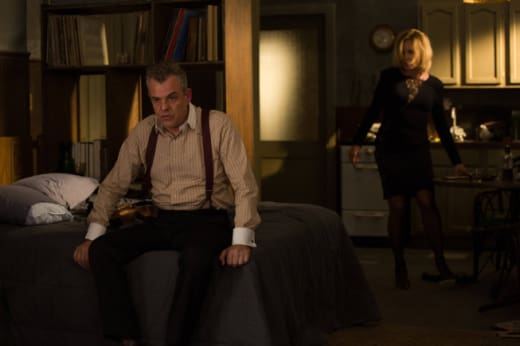 Fiona's love affair with the Axeman was creepy. She's struggling with her mortality and was constantly reminded of that each time a chunk of her hair fell out. She knew he had a dead man in his tub, regardless she gave into him for the companionship and comfort. Does she realize how dangerous he is? Perhaps, but I'm not sure she would care.
Even after he revealed that he had been watching over her since she was a child, she went back to be with him that night. She's lonely, scared, and he's dedicated to her. That affection would be difficult to pass up in her current mental state. And, her dalliance is good for the girls back at the Academy, but not for long.
There will be war when Fiona finds out what's been going on in her absence. She will be furious about the on-goings, but she also will have to face a daughter who wants her dead. And, with Zoe's help, Cordelia may well have her desire fulfilled. No matter what, Fiona's time left is quickly drawing to an end.
During the zombie attack in American Horror Story season 3 episode 5, Zoe stepped up, protected her friends, and she hasn't stopped since. She's a force. She cast a spell to move the Axeman out, she gave back Spalding's tongue, and then she killed him. With Spalding's confession that Fiona killed Madison, she'll certainly be on Cordelia's side against Fiona.
Even though Madison slept with Kyle, Zoe should want to protect her friends and the Coven against Fiona. Plus, with her new strength she has reason to fear the current Supreme. If Fiona would kill Madison to protect her power, there's no reason she wouldn't do the same to Zoe.
I was disappointed to see Madison and Kyle having sex, but it also wasn't all that surprising that the two resurrected teens would find an undeniable connection. Teens being teens ... neither taking turns or a threesome was unexpected. While Madison couldn't give up the sense of feeling she got from him, she also didn't want to alienate her friend.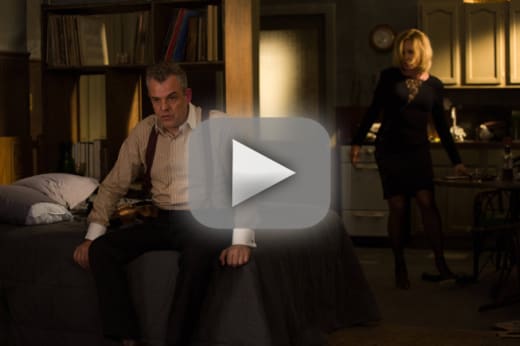 Madison was trying to make the best of the situation. In the end ... it probably won't end well. Love is a dangerous thing. With magic in the mix, it's unpredictable and troublesome. In a twisted way, it could all end up working out though. That's one of the benefits of American Horror Story. You never know when the horror will hit or perhaps when love will prevail.
While a battle between Fiona and Cordelia is a certainty, the fight between Marie Laveau and the Coven isn't over either. That threat could be the only thing that prevents Cordelia from following through with her plan to kill her mother. The strength and survival of the Coven would rank higher than her desire to kill Fiona.
With Queenie's defection and Spalding's death, the Coven is left weakened. And, Marie Laveau has a secret weapon still out there -- Cordelia's husband, Hank. Neither side of this fight is innocent and if they aren't careful they could end up destroying both magical families.
Carla Day is a staff writer for TV Fanatic. Follow her on Twitter and on Google+.