Awkward Review: Rock Bottom A.S.S.
Nick McHatton at . Updated at .
Welcome back, Jenna.
It's been a difficult few episodes, but it looks like Jenna was finally at rock bottom at the end of Awkward Season 3 Episode 15.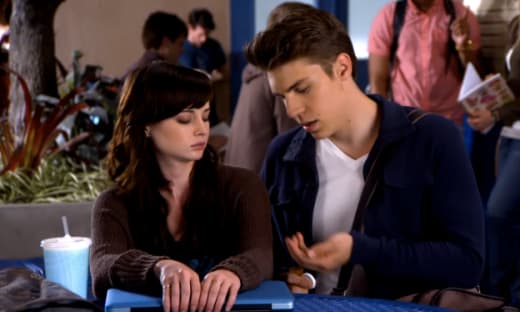 The first half, The After School Special - or A.S.S. according to Val - was the final nail in the coffin for those with whom Jenna surrounds herself.
Val was the final person Jenna had to alienate, and she did it well. As much as Awkward Season 3 has placed a spotlight on Jenna and the decisions and changes she has undergone, the after school special shined a light on the role her friends are playing.
It was very much like the carefrontation letter from Lacey, except televised. Jenna, Ming and Jake are accidentally roped in after not knowing how to help Jenna, but they quickly realize the A.S.S. is based on Jenna. They take the opportunity to use Jenny as a filter for what they're feeling for Jenna, expressing their fears about the decisions she's making and the path she's taking.
Sadly, Jenna isn't where she needs to be to be receptive.
Instead, her pot break leads to Val suspending her and it's here where it all breaks down. Val is Jenna's biggest ally, but, sadly, Val doesn't realize that Jenna doesn't see her in the same light.
Val thinks she can make an impact on Jenna, but all it does is push Jenna to feeling victimized and isolated because absolutely no one, not even Val, is accepting of her current choices.
An amazing moment happens in all of this: Val is given a dose of compassion and reality. The show is always ready for Val to say or do something wildly crazy or inappropriate, but very rarely do we see a side of Val that is all parts compassionate guidance counselor and no parts lunacy.
Now that Awkward has brought out this part of Val, I don't want to see her bottled up.
That's the pot talking. I am sorry that it took me so long to get up to speed, which you might be on too, but I'm ready now. And as your friend I'm ready to help 'cause you're my girl.

Val
The second half finds Jenna sneaking out with Collin to a party, and if there are any doubts of Collin's behavior it's all put to rest here.
He's the shiny bad boy that Jenna had to have and now that she's fully entrenched in his world she doesn't like what she sees. It's what every parent hopes their child sees before they get to this point, but at least Jenna is able to figure it all out before things grow even worse.
Matty continues to be a very stand up guy. He's more than willing to come pick up Jenna and take care of her in any way he can, and it's in the moment that Jenna sees what might be Devon's earring in Matty's car do the consequences of her actions fully hit her. She's lost everything for a desire of the unknown, but she burns so many bridges to try that she may never get back to what she really loves.
The road from here on out is going to be difficult for Jenna. She won't be able to sit back down at the table and continue on like everything is normal. It's going to take a lot of work, and some if may never fully come undone – like her own carefrontation letter about Valerie and earning back Lacy and Kevin's trust.
Two More Thoughts:
One of my biggest complaints is Jake not having his own storyline but instead always being tied to Tamara, so I'm pleased to see Awkward taking up that very issue. Tamara is so interested in being in a relationship and Jake is so interested in pleasing everyone that neither of them has figured out how to be their own person while still being in a relationship.
Sadie might be my favorite person in this back half of the season. She's always willing to speak what everyone is thinking, but with more pizzazz. I wish @YourHarshTruth were real.