Boardwalk Empire Review: Run Out of Road

Chris O'Hara at . Updated at .
Chalky and Daughter sought refuge in Maryland this week, while Nucky holed up at the Albatross with a host of armed guards.
Both men were on high alert on account of Narcisse, but Chalky had to feel even more alone given his belief that Nucky betrayed him.
Nucky surrounded himself with family and used the occasion to pick Eli's mind about the late night call he received from Means. Chalky, meanwhile, looked to his old friend Oscar for some guidance as to what he should do. Eli's advice to Nucky was of course tainted, because of his involvement with Knox.
Chalky got straight answers from Oscar, but didn't really get the answer he was looking for.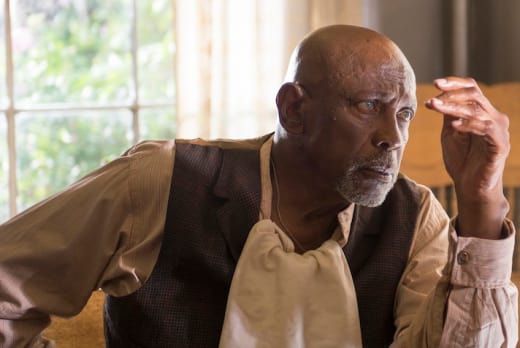 Chalky's plan all along, of course, was to get back at Narcisse. Running away with Daughter and not looking back never was really an option for him, not with his family still in New Jersey and in potential danger.
At the onset of Boardwalk Empire Season 4 Episode 11, Nucky still had Tampa on his mind and alluded to Eli how the worries associated with running Atlantic City would some day pass to his brother. That all changed at dinner after Nucky saw the way Eli cut off June as she began to describe the insurance salesman who had visited their home.
Nucky mentioned to Willie how he used to get a similar reaction from Eli as a boy when he would mention the poem he wrote for a girl.
As the family got ready to leave, June told Nucky about Eli being back on the bottle, which must have signaled to him that his brother was feeling some serious pressure about something. So he called Eli out of the car and recited the aforementioned poem.
Eli's reaction, or lack there of, all but solidified Nucky's suspicion that the skunk in his house was in fact his sibling. Still, Nucky gave him the order to set up the meeting they had discussed. Nucky, like his brother, probably felt this move was the best way out of the current situation, but he no doubt has a different idea about how it will all play out.
Narcisse and Masseria will surely think Nucky is caving to their demands when they hear news of the meeting, but knowing Nucky, it will end in a much different manner than they will expect. I'll be looking for Richard to play a key role in Nucky's plans.
While the walls were closing in on Chalky and Nucky, Gillian thought she had found a new lease on life after what could very well have been the last time she visits with Tommy.
That entire scene was set up so well, with her picking up the fallen toy soldier and setting it back on the table. Tommy, of course, is the only thing left in her life tying her back to Jimmy, her own fallen soldier. I made a note of how much Tommy sounded like Richard as he answered his MiMa's questions and then, as if on cue, he appeared to question her visit.
As Gillian gave Jimmy's dog tags to Tommy, she all but said goodbye to her grandson. In closing that painful chapter of her life, Gillian finally felt free, which she noted to Roy.
The good vibrations continued for Gillian after Roy's proposal of sorts. I couldn't help feeling sad for her when the tranquility of the evening was shattered by the shooting in the garage, which lead to their subsequent conversation back at her house.
Gillian: Just let it go. Get away with it. No one saw you.
Roy: I saw me! God saw me!
Gillian: You can live with it.
Roy: You can't know that.
Gillian: Yes, I can.
Gillian had finally found someone with whom she could start fresh. When Roy began talking about turning himself in, the only way she could show him why they belonged together was to confess to him about the murder she committed. Her honesty and even more her need to be able to love and trust someone was of course her undoing.
You can make yourself live with anything.

Gillian
Roy shooting Hewson was part of his deception, so there really was never any blood on his hands in that regard, but I do think he will struggle to live with betraying Gillian's trust. He was doing his duty, but he genuinely had begun to care for her. He earlier expressed concern when he thought she may have gone back to using heroin and seemed almost reluctant later at dinner, as he fed her the story about his business deal going through.
It will be interesting to see how this whole ordeal pans out.
It won't take Chalky long to realize it was Weems who alerted Narcisse's men to his whereabouts, but he now has Winston and Levi watching his back. If Narcisse is to be dealt with, Nucky and Chalky will undoubtedly have to work together. After this latest deception at Oscar's, it is going to be that much harder for Chalky to believe Nucky when he tries to tell Chalky that he had nothing to do with the attempted ambush by Mayor Bader's men.
One episode left and it promises to be a big one.