Boardwalk Empire Review: Under the Boardwalk

Chris O'Hara at . Updated at .
As the tide went out on another season of Boardwalk Empire, fans watched the light in Richard's eye fade as well. 
Richard's death on Boardwalk Empire Season 4 Episode 12 was just one a several such departures in what was a seriously blood soaked finale.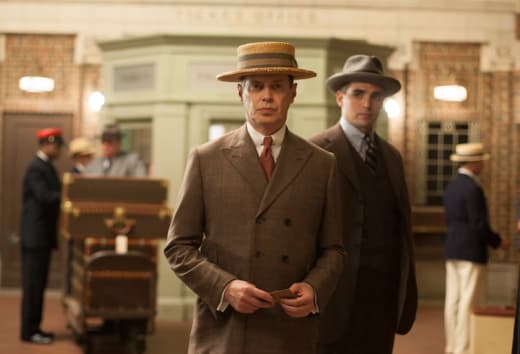 Eli beating Knox to death ranked right up there with Chalky and Dunn's struggle in Boardwalk Empire Season 4 Episode 8. I can't recall ever seeing hand to handsaw combat before.
Eli saw to it that the Knox would never mess with his family again. The big question of the episode was this: would Nucky have gone through with killing his brother had Willie not walked in when he did?
I think Nucky would have done it. All the mentions of Jimmy reminded me how, when it comes to betrayal, Nucky has shown the ability to pull the trigger before.
Richard's hand froze up when the time came for him to do what he has always shown great skill at. The result, of course, was his accidental murder of Chalky's daughter. Part of me always thought Richard might be the one to outlive all others on the show. After seeing him say goodbye to Tommy, I realized that day would never come. 
Richard saw to it that Gillian paid for her sins. While he was no saint himself, I thought he deserved a better send off than he got. The final scene where he died under the boardwalk, as the episode faded to black with the sound of the ocean lapping against the shore, was great.
I just felt bad for him earlier as he was battered by Gillian's lawyer on the stand. That scene coupled with his final shot missing its target was not how I would have envisioned his final scenes.
There were a lot of arcs on Boardwalk Empire Season 4, perhaps too many. The erosion of Capone and Torrio's relationship seemed rushed and the exchange of favors by Rothstein and Margaret never really seemed to fit with the rest of the season.
Van Alden continued to float within Capone's criminal ranks, be it waiting on tables or picking up Eli at the train station.
As Chalky sat in his old friend's rocking chair, you got the feeling he might also be thinking about getting out of the game like Nucky,
All in all it was a good season. Good, not great, but I'll definitely be back for Season 5. How about you?