I walked away with several thoughts after Castle Season 6 Episode 8
Diamonds are nothing but shiny rocks. Clowns are darn creepy. And seashells are the next chapter in a great love story.
Let's start from the beginning...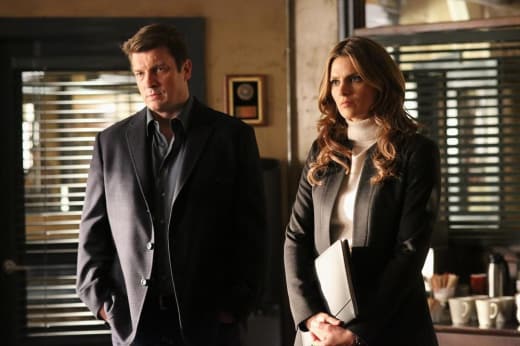 Barrett Hawk sitting next to Alice Clark in that car as he shut off her ringing phone was fairly disturbing. He was just so darn calm about the dead woman in the driver's seat.
Kudos to Anthony Ruivivar who struck just the right note between cocky and menacing as the professional fixer. I was actually a little relieved he wasn't the murderer.
When they uncovered that Alice's boyfriend, Matt, had a secret identity I thought that was the end of the story. Matt/Leo's back story about the blood diamonds and his crusade to end the savage violence surrounding those gemstones was a surprising twist. But I was even more surprised when he turned out not to be our killer.
Esposito and Ryan played a huge role in the investigation and I couldn't have been happier. It was great fun hearing them share their own relationship theories as in this Castle quote...
Ryan: I don't know about you but I am very comfortable in my masculinity.
Esposito: You do realize you're wearing a sweater vest, right?
I don't think anyone can question either's masculinity after that epic gun battle. There was so much to love in those action packed moments.
First, I knew someone was going to try and steal that diamond from the boys at some point. Driving around town with a $60 million gemstone in your pocket is just asking for trouble.
Even though I suspected it was coming, when their car got hit, I definitely flinched. Then these two proved what an amazing team they are.
From Espo pulling Ryan down in the car when the shots rained down around them to the two of them covering one another as they ran for the cover of the subway stop, they were nothing short of the dynamic duo of the 12th precinct.
And on a side note, I have to mention that thanks to watching the movie Poltergeist when I was as a kid and tonight's episode of Castle, I'm probably going have nightmares about evil clowns tonight.  
As if clowns weren't creepy enough.

Castle
Exactly. Moving on…
Kate and Rick's debate over Linus the Lion was really adorable. I mean, Castle named him Linus! And he bought him with his first royalty check from In a Hail of Bullets, so he wasn't just being stubborn. There was obviously sentimental value there for Castle.
But Kate was waking up to a glaring lion. I could see how that could be intimidating.
Castle's original takeaway from Alice's relationship book was destined to backfire.
Castle: You see, I'm honoring you by inviting you into my territory and Linus is part of that territory.
Beckett: And if you want to be invited into my territory again, you should probably rethink that.
Whereas Kate countered him perfectly at every turn. She even pretended to be fine when he mentioned she should ditch her elephants on parade. Of course, we all knew he didn't mean it and I'd always suspected he had a soft spot for that desk ornament.
I actually like those elephants. They obviously have family values and this one's good with money.

Castle
But it was the final scene that brought it all together. Castle realized that they needed the loft to be about their story if it was going to be their home.
So down came Linus and up went seashells. His gesture was made all the more special in that Kate immediately recognized the shells that they'd collected together on their first walk on the beach in the Hamptons. I'd say that move definitely got him back into Kate's territory.
Because it wasn't his story or her story. It was their story. And it was perfect….almost.
I probably sound like a broken record but that was a perfect opportunity for a kiss. The fact that there wasn't one was actually a distraction from an otherwise almost perfect story.
Am I overreacting or was Castle and Beckett's shared seashells enough to make this story perfect for you?
C. Orlando is a TV Fanatic Staff Writer. Follow her on Twitter.