Covert Affairs Review: Investigations Collide

Carla Day at . Updated at .
The noose is tightening around Henry Wilcox.
With evidence piling up, the investigation into Henry's nefarious activities was ramped up by all those on his trail.
And, by the end of Covert Affairs Season 4 Episode 14, those forces combined with a real chance of bringing the evil man down.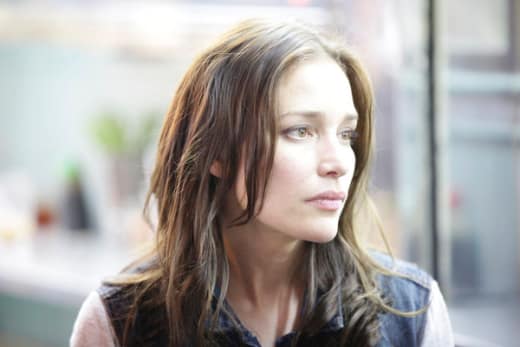 It's about the money. Henry didn't have his literal finger on the missile launcher trigger, so the best way to prove his involvement is to link the money for its purchase to him. Annie tracked down Henry's money man, Nelson Smith, a family man and Customs Official. Annie's meeting with Smith didn't go exactly as planned.
Smith had control of the situation after he caused a car accident. He threatened to exposure Annie to Henry, but instead they came to an agreement. Smith was Henry's patsy. It was in his interest to cooperate with Annie. Well, that is as long as Henry doesn't find out. Though, either way, Smith is a loose end and Henry doesn't allow those to stick around.
At the same time, Joan was getting information about Henry's money trail from FBI Agent Vincent Rossabi. That was the break she needed to find the source of Henry's funding. He was stealing money from the CIA and using it to fund his operations.
The two women followed separate leads, but ended up the same place and ran into each other outside the broker's location. Their reunion was a little anti-climatic, yet it was perfect. I loved Joan's reaction, a simple, "You're alive." And, with that they were working together. 
There wasn't any anger or bitterness. Joan was concerned about her well-being and then it was all about the mission and their shared desire to see Henry pay. With Joan's information about the location in Hong Kong, they had actionable intelligence to finally end Henry.
Auggie's anger over Helen's death and his troubled relationship with Annie caused him to act reckless. He decided to take Henry down himself. And, once again, Henry knew what was coming and disappeared. The Auggie-lead raid on Henry's place was a bust and was followed up by Calder's own planned raid.
Henry was gone.
With only two episodes left in Covert Affairs season 4, the end is near. Will the newly combined team of Calder, Annie, and Auggie be able to take advantage of knowing where the money is headed to finally get Henry?
I hope so. I'm just about done caring about him and his actions. He needs to be removed from the picture entirely. Though, the challenges facing the Campbells, Calder, Annie, and Auggie will be far from over once Henry is taken off the spy board. They have all gone rogue against the CIA and will have to deal with the ramifications for that.
No one has ever returned to the CIA after coming in from the cold after going underground unofficially. The only hope for Annie is that Calder, her superior, was aware of the plan and it can be effectively spun. Plus, there could be a humongous shake-up at the CIA in the aftermath of Henry's takedown. How high up has his corruption gone?
And, now that Calder and Joan are on the same page, they will be a force. Joan's apology for hating him and then thanking him for protecting Annie was my favorite moment. Just as with Joan and Annie's reunion, there wasn't any drama. They know the business and realize they are all on the same team.
Now, that team must stop Henry!
Carla Day is a staff writer for TV Fanatic. Follow her on Twitter and on Google+.