On Criminal Minds this week, Morgan was a little bothered when a girl he's been seeing suddenly bugged out in the middle of the night to go to her job. Yeah, yeah, yeah. Kind of beside the point, wasn't it?  
How about: Morgan has a new main squeeze! Her name is Savannah, she's drop dead gorgeous and they've been seeing each other for a few months.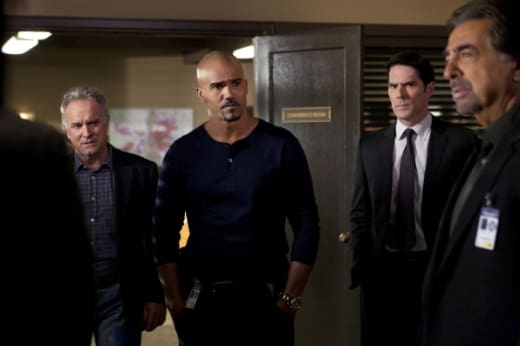 On Criminal Minds Season 9 Episode 8, the BAU (including Derek Morgan, after he walked his girlfriend's pug) investigated the murders of a group of people at a diner, all shot by a young teen who was then himself killed by an off duty cop. Awhile later, another young teen blew himself up in a car in the middle of an intersection, killing a traffic cop in the process.  
The team eventually figured out there was a Pied Piper who was leading the cult of kidnapped kids and using them in a revenge plot against the Chicago PD. A long time prior, the Unsub and his partner had been kicked off of the force for brutalizing suspects when trying to get them to confess.  
They were turned in by a rookie cop named Reyes, who years later became the ultimate target for the Unsub.
The cult-like dynamic of the Unsub's group included a young woman who - after being kidnapped six years ago and brainwashed - entered the precinct wearing a suicide vest and holding a dead man's switch. In an amazing act of precision that can only be accomplished on a TV show, Morgan shot her dead while JJ tackled her and held the switch closed, thereby saving everyone.  
In real life, odds are that they'd all be decorating the walls of the precinct.  
As cases go, this one was milder and less of a wild dark fantasy than what we're used to seeing. As such, it was more believable (except for the dead man's switch deal) than the usual fare. 
On the plus side, it's important to note that the case itself was built upon the Patty Hearst event of 1974. Hearst was kidnapped and subsequently fell victim to what's known as the Stockholm Syndrome - where a captive strongly identifies with her captor. In the case of Hearst, she identified so strongly with the people who kidnapped her that she robbed a bank with them.   
The premise for this case was therefore quite believable, as was the behavior of the captured teen - Daniel Morrison, played quite convincingly by actor A.J. Achinger - who would only give his name, rank, and "serial number."
The more fascinating story had to do with Morgan's romance. It was interesting to see him fall for a woman who, like himself, was passionate about saving people. And just like him, she prioritized her job over almost everything else. Funny how it took Garcia - the girl he's flirted with for all these years - to point this out to him.  
In past episodes, we've watched members of the BAU get a little uncomfortable with the ongoing cutesiness between Morgan and Garcia - especially when other outsiders were watching or listening to their banter. 
Here, we finally got to see that their dynamic is all play, none of which is even remotely serious. They are best friends who've found a unique sort of playful corner where they can be warm and completely honest with each other.  
Final notes:
What did you think of the case of the week? How about Morgan and Savannah? Can a relationship where both parties prioritize their jobs over everything else work? When JJ rescued the last teen victim, was she internalizing her own son - who happened to look a little like him?  
Douglas Wolfe was a staff writer for TV Fanatic. He retired in 2016. Follow him on Twitter
.